By Jimitota Onoyume
PORT HAR-COURT— Governor Nyesom Wike of Rivers State has  cautioned against manipulating electoral processes, stating that same was a threat to Nigerian's unity.
The governor handed down the warning in the United States of America, USA,  while delivering the keynote address at the national convention of the USA chapter of Ogbakor Ikwerrre, the apex socio-cultural body of his  ethnic nationality.
While reaffirming the commitment of Rivers State Government to a united Nigeria, he said that security agencies should not be used to manipulate electoral processes in the country.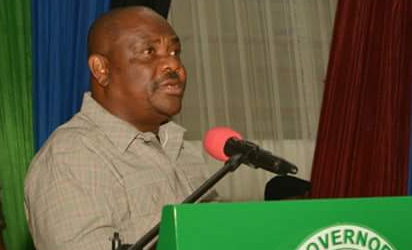 "The most dangerous threat to the unity of the country is not the agitation by different ethnic groups, but the inability of Independent National Electoral Commission, INEC, to conduct free and fair elections.
"Unless security agencies ensure free and fair elections, the unity of the country may come under severe threat," he said.
He also harped on the need for the Ikwerre nationality to continue to unite to remain relevant in the political space.
"As 2019 approaches, we must eschew politics of hatred, bigotry, acrimony, bloodletting, blackmail, falsehood and allow our leaders to take us in the direction that best serves our collective interest.
"Most importantly, we must resist every attempt by any Judas among us, to truncate our ascendancy and make us play second fiddle in the evolving politics of the state and the nation because of their selfish interest," he added.
The governor spoke extensively on his success in different spheres since he assumed office, assuring that his administration will impact greatly on the state.
He said, " Two years down the line, we are happy to report that our state is substantially back on track and progressing in the right direction. Our economy is reasonably  strong and growing, while lives and property are relatively more secure and safe.
"Under our watch, all the three arms of government are functioning effectively and working harmoniously towards the common good of our people and for the first time in a long while our people are now enjoying the positive effects of having a government that listens, cares, and consults with the people through their representatives before taking any steps.
In terms of the tangibles, we have substantially delivered on our campaign promises to the state and our people. We have a pan-Rivers mandate and so we are bound to spread development to all parts of the state. This is what we are doing to foster balanced development. "