By Evelyn Usman
Local government election may not hold at Peace Home Valley Estate Community Development Area , CDA off Sewage road, Jakande estate in Oke-Afa area of Ejigbo, Lagos.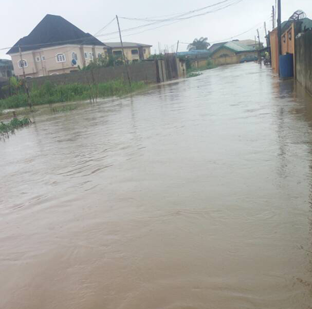 This is because polling units at the CDA comprising of ten streets have been overtaken by flood as a result of the early morning heavy down pour.
As at 11am, residents were still trapped in their respective apartments, as the streets were flooded.
There was no sight of officials of the Lagos State Independent Electoral Commission or agents of respective political parties around.
The affected streets included : Azombe, Vine yard road, Sir Chuks street, ST Ibekwe, Ase , Babatunde Shogbesan street, Alj. jubril, KC Emmanuel and Fatunbi streets.
Angry residents who spoke through their windows and balconies blamed the Lagos state government for their woes, when Vanguard arrived the area.
Some of them were seen trying to secure their properties , especially cars, some of which were carried by flood from their normal parking spaces.
Some of the residents were sighted making frantic calls to the concerned agencies.
Some of them in their conversations were heard requesting that the polling units should be moved to other areas. They also requested that canoes should be brought to the area to convey electorate to the alternative polling units in order for them to vote.
Others were however concerned about their safety as they expressed fear that the impact of the recurring flood whenever it rained could lead to building collapse.
One of the residents, Omozo Chionye who could not hide his consternation said: " Lagos state government has failed us .
Drainage of our canal was approved by the Ministry of the Environment since 2015, yet no action has been taken to that effect. Or are they waiting for disaster to occur so as to take over people's property? "
Another resident, Badmos Gbadamosi said " Election won't hold here today. So we don't expect any body to give result of this CDA. As you can see, people are trapped in their houses. If we actually have a working government , things would have been put in the right perspective before now."
Vanguard however observed that some of the buildings were erected on the water way.
Chairman of the CDA, Mr Ikechuclkwu Ezeonyeka said that the most important thing was safety of residents. He said " Security of life and property is the major concern now. This issue has been reported to the necessary quarter but till date nothing has been done. Flood has over taken the entire CDA."