By Dapo Akinrefon
lagos—FORMER Deputy National Chairman of the Peoples Democratic Party (PDP), Chief Olabode George, has urged Lagosians to vote for Labour Party in the July 22, local government elections Lagos State, saying the party is going ahead with the Labour Party-PDP alliance.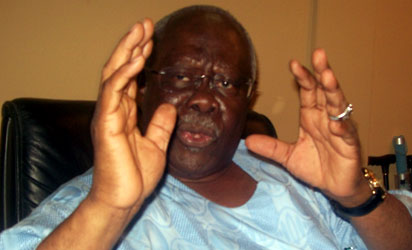 Addressing newsmen in Lagos, George said: "As part of our strategy of confronting the present challenges, we have decided here in Lagos to implement a PDP and Labour Party alliance for  this Saturday  local government elections. It is a necessary recourse which had been authorised and blessed by the National Caretaker Committee."
While he declared Mr Mashood Salvador as the authentic Lagos State PDP chairman in view of the last week Supreme Court ruling in favour of the Markafi-led executive, he said: "My appeal now is to all our loyal members and all the electorate in Lagos State to please go out en masse and vote for our candidates under the Labour Party platform.
This is the platform of truth and liberation. This is the platform that is people centred. This is the platform that cares about the weak, poor and everyone else who want a better and improved governance in our state of excellence."