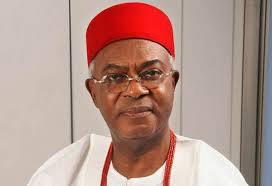 Obi of Ontsha, Igwe Alfred Achebe
By Nwafor Sunday
The Chairman of Anambra State Traditional Ruler's Council and the Obi of Onitsha, Igwe Alfred Nnaemeka Achebe, has cautioned the Indigenous People of Biafra, IPOB, over its statement on 'No referendum, No election' in Anambra state, saying that no one has the right to stop the slated November 18, gubernatorial election in Anambra state.
Achebe who said this when he hosted the State leadership of Ohanaeze Ndigbo led by Chief Damian Okeke-Ogene on Wednesday  urged Anambra people to come out on November 18 to cast their vote. According to him there wouldn't be any form of intimidation, fear or harassment because the federal government will make provisions for security on the Election Day.
In his words, "The election is for us not for the entire country. You cannot have a referendum in one part of the country without carrying other parts of the country along and the government must support and sponsor it before it will be organized and not curving out some part of the country for the referendum. The election must hold and nobody or group of persons will stop it. Nobody should come to the state to cause unnecessary tension".
On the other hand, Igwe Anchebe who saw the need for a united and develop Igbo charged Igbo people in the diaspora to return home and invest rather investing in another man's territory.
His words, "Our people should come home to invest in industry, factory, build schools and hospitals that will be beneficial to our people. We need non partisan strong institution to create good environment for development. I commend the new Ohanaeze Ndigbo leadership both at the national and state level for their efforts within six months to unite Ndigbo"
Thanking Igwe Achebe for his candid advice the state chairman Ohanaeze Ndigbo, Chief Damian Okeke-Ogege said, "There is nothing we will do without you. If there is any case that is beyond us, we will consult you for advice and possible resolution. Obi of Onitsha is bridge between the people and the government and his throne is falling point for Ndigbo, Onitsha culture is a complete and standard that other Igbo land emulates".
Stating further he said as quoted by the Sun newspaper, "Nobody who fought war will like to fight again. So we should be fighting war of sense and not physical war to being Ndigbo into the main stream in the country".
In another development, it has been alleged that the IPOB spoke person, Mr Emma Powerful has issued a statement accusing Igwe Achebe of not supporting Biafra and its fight for an independent nation.
More details soon as we are yet to hear from the IPOB spoke person.