…talks on Biafra in video: Watch the video below:
National Chairman, All Progressives Congress, APC, party, Chief Odigie-Oyegun has said that he is confused and does not know what the word restructuring means the way several Nigerians are using it.
He also said that that was the reason he avoided using the word in his last statement which he said was misconstrued by some Nigerians.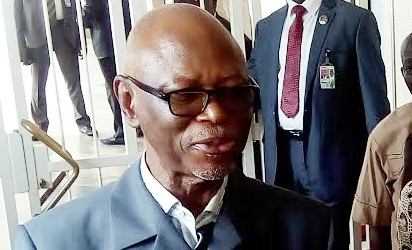 Chief Oyegun also however insisted that his own understanding of what type of restructuring that Nigeria needs is true federalism which the President Muhammadu Buhari-led APC government aptly captures in the party's manifesto.
His words, "I do not know what some people want to make out of my statement. Must I be forced to use the word they want me to use, which I do not want to use. I stand by what I said; the APC promised true federalism and I know what true federalism is.
"I did not want to use the word restructuring, which conveys different meanings to many Nigerians. Some will tell you that they want the country to be restructured into 10 federating units, some will say into six federating units, everything is confusing, I do not even know what they mean by restructuring".
"Go and read our party manifesto and see what we said there, we did not promise restructuring, we did not address true federalism all this time because of the collapse of the economy, but we will soon get there."
Recall that last Thursday, the APC National leader, during an interview on Channels TV programme, said that APC has steps in its manifesto to correct the political imbalance in the country.