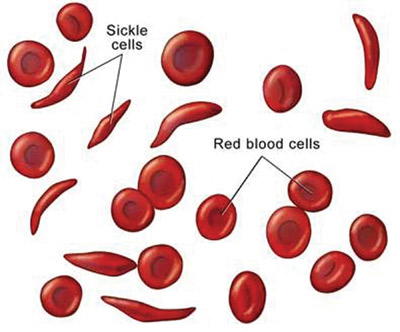 By Chioma Obinna
Every year, about two percent of babies in Nigeria are born with Sickle Cell Disorder, SCD, translating to no fewer than 150,000 children. Out of this number, estimated 100,000 infants die due to the disorder. According to the World Health Organisation, WHO, Nigeria ranks highest among countries with the largest number of people with SCD in the world,  30 per cent of Nigerians are  carriers of the mutant gene, with a prevalence rate of 20 per 1,000 births. 
Despite these staggering statistics, a number of factors, including the cost of treatment, stigma and ignorance, are swelling  the unacceptable large number of people with the disorder in the country.
Sunday Vanguard reports.
The pain and penury associated with Sickle Cell Disease, SCD, is not a secret locked up beyond science.  SCD, a set of red blood cell disorders that are mostly inherited, affects people all over the world and the complications that arise from it are usually fatal. Experts say the red blood cells become tough and sticky and take the shape of "sickles". The infected cells perish early which leads to a constant depletion of red blood cells. And as the blood moves through the vessels, infected cells get stuck to the walls and obstruct blood flow which leads to complications. But with good medical care, people with SCD can live into adulthood but with a decreased life expectancy. Although there is no recent data on sickle cell disorder in Nigeria, it is estimated that only five per cent of the children with SCD live past the age of 10 in Nigeria, compared to over 96 percent surviving into adulthood in the United Kingdom and the United States.
Unfortunately, the ideal management and treatment for the disorder remains a tall dream in Nigeria as most of those affected have been rendered poor due to the cost involved.  Health watchers say the reason for non-compliance to treatment by some people living with SCD is not far-fetched as they live in a country where the  minimum wage is N18,000 and there is no source of support from government. Even the much expected succour from the National Health Insurance Scheme, NHIS, does not ameliorate the situation due to the alleged rot in the system.
SCD has always been an expensive condition to manage. This is because apart from the cost of drugs used to manage the condition, which varies from person to person, an illness can occur at any time and this will need to be treated and paid for.
In a sectional study published in the Journal of African Health Sciences by  Adegoke Samuel, Emmanuel Abioye-Kuteyi and Ernest Orji on the "Rate and Cost of Hospitalisation in children with Sickle Cell Anaemia in Nigeria and its Implications in a Developing Economy", it was found that average cost of care per hospitalization per subject in Nigeria was $132.67 in 2012.
The researchers, who followed 73 children for over a year, discovered that the children had 183 admissions and the total cost during that period was $24,278.37 apart from their maintenance cost while about one-third of the caregivers spent at least 10 percent of their estimated annual income as total cost of hospitalization.
The study concluded that the rate and the cost of hospitalization for children with SCD and the percentage of income spent on hospitalization were too high in Nigeria environment, hence, the need for Government to strengthen the NHIS and subsidise the cost of care to these children.
Investigation by  Sunday Vanguard  showed that Nigerians living with the disorder don't find it easy complying with their prescriptions.
Mrs. Timileyin Edwin, a person living with the disorder told  Sunday Vanguard  that she spends an average amount of N7,000 monthly on drugs whereas she was spending  N4,000 before recession. "Thankfully these drugs ensure that I don't fall ill, because when I do, I may need to spend more money which could be any amount on hospital bills. This could be high or low depending on the illness."
Edwin, who is also the Co-Founder & Chief Executive Officer of Crimson Bow Sickle Cell Initiative, observed that the cost of drugs went up following Nigeria's economic recession.
Also, according to the Executive Director of Genotype Foundation, Dame Doris Gbemiloye, although, foundational-drugs may seem cheap for some Nigerians, it is a different ball game for them as people with SCD must take these drugs on daily basis and as long as they live.
Gbemiloye told  Sunday Vanguard that the cost of  some of the foundational drugs as common as Folic Acid has gone up by over 100 percent. In the case of Proguanil, the price used to be N6,000 but now sells for N8,000.
Why management is expensive
Corroborating her views, the Chief Executive Officer of the Sickle Cell Foundation Nigeria, SCFN, Dr. Annette Akinsete, said the management of the disorder is very expensive and, as such, compliance is a problem.
"Persons with sickle cell have to be on treatment daily in order to prevent complications of the disease such as anaemia and the crisis. The basic medicines taken daily are Folic Acid (which helps to build up their blood) and malaria prophylaxis – Proguanil. It is recommended that they also take penicillin to prevent pneumococcal infections that they are very susceptible to.
"When they develop complications, these have to be treated accordingly. For instance, chronic leg ulcers are treated with daily dressings, antibiotics, analgesics, etc.   Also, hip degeneration is treated by surgical replacement of the hip joints which is also expensive.
"When they come down with stroke, they are treated with chronic blood transfusion, rehabilitation, etc. For acute chest syndrome, they are admitted and placed on antibiotics, exchange blood transfusion among others."
According to her, these victims have no choice whether treatment is affordable or not. "They have no choice. The medicines are expensive and, as such, compliance is a problem."
She urged the National Assembly to pass the Bill on SCD focusing on free treatment for children with sickle cell under age five and pregnant sickle cell mothers. "They should fund sickle cell programmes and support NGOs to implement them. There is also the need for government to commence newborn screening for SCD", Akinsete said.
Stating that hydroxyurea is known to prevent crisis and stroke in people with SCD but very expensive, she disclosed that Bone Marrow Transplantation is the cure for SCD today, adding that, "Sickle Cell Foundation Nigeria is going to start providing this service before the end of 2017."
Overlooked epidemic
To many Nigerians, SCD is an overlooked epidemic despite its ravaging effects on families.
According to a professor of medicine in the Department of Medicine, College of Medicine, University of Lagos, CMUL, Michael Kehinde, over 300,000 children are  born with one form of SCD every year mostly in sub-Sahara Africa, where malaria is common. Out of this, 70 percent are born in Nigeria. "If an inherited disorder can be described as an epidemic, then sickle cell anaemia in Nigeria would eminently qualify for that description. So it is an epidemic that has been overlooked", he said.
Kehinde, who is also a Specialist Physician and Clinical Haematologist at the Lagos University Teaching Hospital, LUTH, blamed the burden of SCD on parents who fail to verify their genotype before they get married
To him, a child should know his or her genotype right from primary school. The genotype is the set of genes in the cells of every living organism which is responsible for a particular trait or characteristics.
"Sickle Cell Disorder causes approximately eight percent of all infant deaths per year. The carrier of haemoglobin S frequency is between 10 to 40 percent with an average of 25 percent in Nigeria. That means the sickle cell trait carrier population is over 50 million. Thus, one person out of every four persons has HbS", he said
"People should know their genotype long before they get married and not just before or after marriage, because once they are about to settle down, there is little that they can be told again to change their perception."
A Consultant Family Physician at the Federal Medical Centre, Ebute Metta, Lagos,  Dr. Usman Olagoke, who noted that the number of Nigerians living with SCD was on the increase, said there is need to discourage marriage between two people with sickle cell traits.
Olagoke, who chairs the FMC's Sickle Cell Club with over 200 members, explained that although there is room for choice, people should weigh the consequences of the possibility of the couple having a child with SCD.
"Information is also key in reducing the number of people with SCD.   When AA marries AA, all their children will be AA. If AA marries AS, there is 50 percent chance that a child will be AA and 50 percent chance that a child will be AS", he stated.
" When AS marries AS, there is 50 percent chance the child will be AS, 25 percent chance the child will be AA and 25 percent chance the child will be SS.
"If a couple with AA and SS genotypes marry, all of their children will be AS. When AS marries SS, it is 50 percent chance their child will be AS and 50 percent chance the child will be SS. When SS marries SS, all their children will be SS."
Meanwhile, health watchers are of the view that with more funding for research, life can be more interesting for people living with SCD.   They posited that Nigeria government should borrow a leaf from the American Congress which passed, as far back as 1972, a Sickle Cell Anaemia Act into law and put $250 million down to research on it.