…Referendum costly, difficult —Mbanefo
…Igbo, single largest ethnic group —Ohanaeze
…You're working for Hausa-Fulani oligarchy —IPOB
…ECA lampoons Obasanjo over Biafra
By Chioma Gabriel, Emeka Mamah, Anayo Okoli , Nwabueze Okonkwo & Chimaobi Nwaiwu
UMUAHIA—THE Movement for the Actualization of the Sovereign State of Biafra, MASSOB, has restated its stand against restructuring of Nigeria, saying it was referendum or nothing as restructuring would not work out because of lack of trust and confidence among the ethnic groups that make up Nigeria.
However, a former Nigerian Permanent Representative to the United Nations, UN, and one-time chairman of State and Local Government Creation Committee during late General Sani Abacha's military regime, Chief  Arthur Mbanefo,  has disagreed with referendum, saying it would be difficult and costly and requested instead, that adequate publicity be given the 2014 confab report, which Ndigbo and some other tribes are clamouring for its implementation.
This is even as Ohanaeze Ndigbo asserted that the issues concerning the Igbo be tackled as Igbo are the single largest ethnic group in Nigeria and the second in population in all states outside Igboland.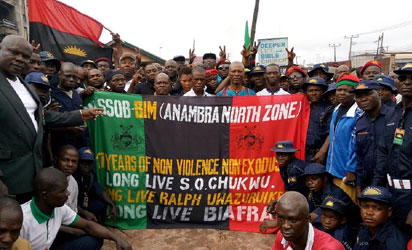 According to Ohanaeze,"after the indigenous people in every state in Nigeria, the Igbo are the next highest in number."
Referendum, not restructuring —MASSOB
MASSOB in a statement by its National Secretary, Comrade Ugwuoke Ibem Ugwuoke therefore, insisted that the best option for Igbo is Biafra through a referendum.
Ugwoke said: "Though MASSOB is not against the agitators of restructuring or implementation of true federalism, we believe that such adventures will never be actualised because there is no trust and confidence among the regional ethnic leaders.
"The corrupt and parasitic political, religious and traditional leaders of Hausa-Fulani will always frustrate the move for political balance of Nigeria federalism."
MASSOB however  commended the leadership of Ohanaeze  Youth Council for its consistency and eloquence on the issue of the struggle for the actualization of Biafra and warned against alleged plan to by  some Igbo leaders to blackmail the council's leader, Mazi Okechukwu Isiguzoro.
Insisting on rejection of restructuring, the statement said: "MASSOB under our leader, Comrade Uchenna Madu, has insisted that we are not interested in restructuring of Nigeria because the foundation and intention of establishing Nigeria as a state do not favour restructuring."
Referendum costly, difficult —Mbanefo
Mbanefo, who spoke to newsmen at his Onitsha country home, weekend, during the funeral ceremony of his brother-in-law, Odinigwe Onuora Joseph Nzekwu, advised Biafra agitators to concentrate more on clamour for restructuring of the country than on agitating for Biafra because the referendum they are talking about is not only very expensive but very difficult to come by.
He also blamed the mass media for giving an undue recognition to a number of young people, who speak any how and try to heat the polity, adding that only himself and Dr. Sylvanus Kuki from Opobo land are the two surviving  persons who served under the late Biafra warlord, Chukwuemeka Odumegwu Ojukwu, during the civil war and knew the intrigues behind the war.
Mbanefo said ignorance and money were Igbo's major problem, adding: "The northerners had just made a simple statement and Igboland is shaking, because we are interested in wealth. We got worried over  anything that affects our wealth. "
You're working for Hausa/Fulani oligarchy, IPOB accuses Igbo govs, leaders
In a related development, Directorate of State, Indigenous People of Biafra, IPOB, has accused Ohanaeze Ndigbo and South-East governors and a good number of politicians from South -East extraction of working for the Hausa-Fulani oligarchy.
In a statement by Head of Directorate of States of IPOB, Chike Edoziem, the group  alleged that as long as their masters are pleased with their work of ensuring that Biafra people are economically, linguistically, religiously, politically and culturally emasculated, they do not give a damn.
"Biafrans must understand that Ohanaeze Ndigbo,governors of South-East states of Biafra, and a good number of the present crop of politicians are serving the interest of their benefactors, the Hausa/Fulani oligarchy, that put them in power.
"They, therefore, in the first place, do not give any consideration about the sorry state of affairs in Biafraland. As long as their masters are pleased with their work of ensuring that the Biafran people are economically, linguistically, religiously, politically and culturally emasculated, they do not give a damn."
ECA lampoons Obasanjo over Biafra
Meanwhile, the Eastern Consultative Assembly, ECA, has accused former President Olusegun Obasanjo of playing the ostrich by asking Nigerians to stop agitations for Biafra because it would lead to a coup de 'tat, saying the deliberate creation of 36 states and the 744 local government structure by unelected military leaders, which made the north to lord it over on the south, were at the root of the problems holding down the country.
It further stated that the unworkable unitary system of government foisted on the country by Obasanjo and other military rulers had caused intractable political problems for the country, describing the former president's position on Biafra's agitation as "mindless prevarication."
This was contained in a statement signed by the Secretary General of ECA and founder of the Igbo Youth Movement, IYM, Evangelist Elliot Ugochukwu-Uko in Enugu, yesterday.
No killing of Biafra agitators under me – Chidoka
Similarly, former Minister of Aviation and Corps Marshall of the Federal Road Safety Commission, FRSC, Chief Osita Chidoka, has said his administration would not encourage any form of killing of Biafra agitators or unarmed protesters, as is the order of the day in Anambra State.
He said under a democratic dispensation, self-determination is guaranteed as enshrined in the United Nations, African Charter and the Constitution of Nigeria, adding that molesting and shooting them dead by security forces or incumbent government administration is unconstitutional and negates the principles of democracy.
Chidoka, a gubernatorial aspirant on the platform of United Progressives Party, UPP, who spoke to the party supporters at Umueze-Anam community in Anambra West Local Government Area, while commissioning his campaign office, said all past leaders, who engaged in genocide usually ended up in International Court of  Justice at The Hague.
He said if elected the next governor of the state on November 18, this year, he would execute developmental projects in all the 21 local government areas of the state under Phase I and not under Phase II as our past and present leaders usually say.
According to Chidoka, "My administration will not encourage killing of unarmed Biafra agitators and I will execute all my projects in my first tenure and second tenure and the projects will come in Phase I not in Phase II which may not likely hold because all my experience with previous administrations showed that most of the projects selected for Phase II were not executed at the end of the day"