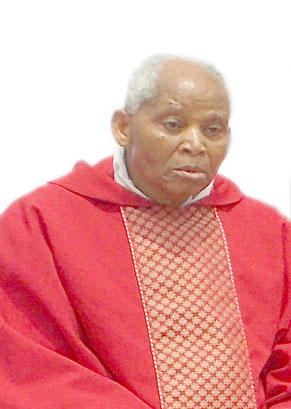 Msgr Osigweh
By Chris Onuoha
Often, people see healing as magical, be it physical or spiritual. In some cases, it is attributed to hypnotism but the fact remains that true healing comes from God when the spirit mind consents.
In that light, a book that sheds more light on such controversies and educates on the power of healing through prayer titled; "Healing Ministry and Evangelization in Nigeria", was launched recently by Reverend Monsignor Sylvester Osigweh, parish priest of St. Mary's Catholic Church, Ifo and Spiritual Director, 'Jesus is Love and Power Catholic Healing Ministry', Ifo, Ogun State.
Monsignor Osigweh who clocked 78 last Wednesday, July 19, is one man whose calling is phenomenal. When many priests passed through the seamless reclusive seminary training from juniorate to ordination, his journey into priesthood, perhaps with turbulence and impeccable humble beginning, became a reality with meritorious service in God's vineyard. Little wonder his aura commands spiritual grandeur.
Fondly called 'Man of the people', Osigweh runs a Healing Ministry that caters for the sickly through prayers and natural healing. This book, "Healing Ministry and Evangelization in Nigeria", is an exposition of the general character and influence of healing in the evangelical procedures applied at different ages. The book is an index of Jesus' use of healing ministry in the promotion of faith and protection of life in the field of evangelization. However, it further explains the use of sacraments and sacramental which are the practical instruments of evangelization.
According to Osigweh, "The art of healing through the ministry is a phenomenon that springs from discovery of one's calling through destiny redirection, made possible in the use of sacramental in healthcare, not quest to perform miracles."
The practical aim of the book explains the need for people to understand that healing and evangelization go together. It exposes the different areas of difficulty for man which pastoral theology has made available by ways of tackling them with lots of insights on how to, courageously and practically, pursue these problems with the mind and teaching of Christ.
A passage from the book reads: "Jesus confronts sickness throughout His whole ministry. He found sick people wherever He went… Without stopping to distinguish natural sickness from diabolic possession, He casts out spirits and cures those who are ill."
The book vividly explains the method of healing ailments through prayer backed by faith in God which also depicts how faith operates with work.