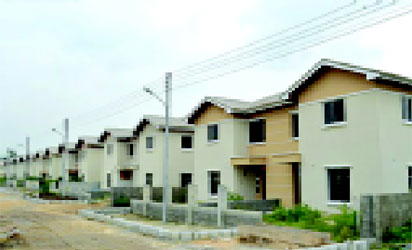 Residential Housing Estate
Dr Hannatu Fika, the Executive Secretary of Federal Government Staff Housing Loans Board (FGSHLB), has said that one way a government can encourage workers is by providing them shelter.
Fika spoke in an interview with the Newsmen in Abuja.
She said it was for this reason that the current government had used FGSHLB to enable federal government workers to build houses.
Fika said that over time the board had helped 30,000 workers to access loans to own houses.
"The best thing any government can do for its workers is to provide certain basic welfare needs so that they too can work effectively, diligently and willingly for the country.
"The first recipient of our loan and the house procured from this scheme is still standing in Surulere, Lagos, since 1952.
"Until 1974 the programme was only situated in the Lagos territory but was expanded to all the states of the federation.
"So as of today, from the statistics of loans that we recently disbursed, we can proudly say that we have touched the lives of 30000 federal public servants who now own their own homes through the FGLSHB revolving scheme.''
She noted that the board started operations in 1924.
Fika said the housing deficit in the country might persist if the   relevant agencies lacked the resources to operate.
"We will continue to pressurise government to make fund available for us.
"If you look at the number of civil servants that come under our purview they are so many.''
She, however, stressed that  "as long as funds are not there, we have to utilise what is in the mortgage agency to be able to build these houses.''
Fika lauded the efforts of the present administration to provide houses for Nigerians, especially through the Federal Ministry of Power, Works and Housing's projects in all the states