By Chris Onuoha
Nigeria's Federal Capital Territory (FCT) has indicated its willingness to work with the National Council for Arts and Culture (NCAC) to promote the cultural heritage of the FCT in particular and Nigeria in general. This relationship was forged when the Director-General of NCAC, Otunba Runsewe, visited the Honourable Minister of FCT, Muhammadu Bello, in Abuja recently.
Otunba Runsewe had during the visit requested the minister to "kindly step in with a view to resolving the issue" of the proposed site for the upcoming Africa Arts and Expo exhibition which is still in contention, "so that we can have a successful trade fair."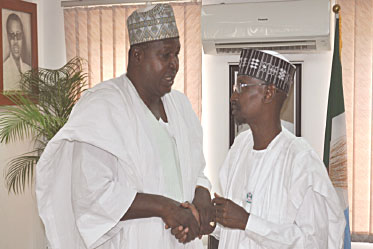 The DG also highlighted the importance of hosting foreign Ambassadors before the planned Expo, which he said would prepare them for the mega event and serve as a window for showcasing the rich cultural potentials of the FCT and Nigeria to the world.
The DG also took the opportunity to intimate the Minister on the new hash tags, "#ThinkNigeriaFirst" and "#ThinkCulture" ,  introduced by NCAC aimed at promoting patriotism and love for the country's rich and diverse cultural heritage.
Responding,  the Hon. Minister expressed satisfaction and delight in the job done so far by the NCAC boss saying they have had a longstanding relationship spanning decades. He described Otunba Runsewe as a man full of energy and novel ideas, promising to resolve the contentious issues.   The minister also pledged his support for the DG saying his appointment was indeed a round peg in a round hole.