By ADERONKE ADEYERI  & ADETUTU ADESOJI
Popular Yoruba actress, Lola Alao has had her fair of controversies; from her marriage crash to her conversion from Christianity to Islam. While the storm was threatening to consume her, Alao seemed to disappear. But our reporters run into her recently and it is vintage Lola Alao all over again, baring her mind on her career, relationships and other sundry issues.
Not much has been heard from you lately, why is that?
I have been doing other things because the industry is very poor right now. When I say poor, I mean when you produce a movie, the marketers do not make profit because of piracy. Also, people don't buy our movies like before; they would rather watch cable TV, so I decided to slow down a little. I produced a movie last year but it is yet to be released, the movie was shot in California, Las Vegas, Paris and Nigeria.
What is the movie about, and why did you shoot in different locations?
I write my stories based on true life events and I make sure my movies educate and teach morals. Iyinoluwa (Praise) is a movie that will educate mothers and children, it is a story about a woman who lost her husband and had to take care of her children at all cost.
She hawked sachet water and did all sorts of jobs to survive. She lost one of her two daughters in the process but that did not stop her, as she continued to work hard in order for her surviving daughter to succeed. In the long run, with hard work and the grace of God she was able to send her daughter overseas to study and at the end of the day, their lives changed for good. The cast includes Ayo Mogaji, Late Pastor Ajidara, Olaiya Igwe, Aisha Abimbola, I and many others.
Whose story inspired the movie?
I went out one day and met a lady, and while we were talking, she told me her story. She narrated what she went through with her mother to become successful in life. I listened attentively to her story and decided to make a out of it.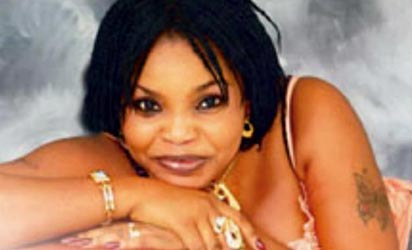 You have been in the industry for a while now, what do you think the industry is not getting right?
Piracy is killing this industry. I have also noticed that anybody can decide to become a producer which is wrong. Like I said earlier, I just produced a movie, I didn't produce it with my money; I took a bank loan which I have to pay back, but with the rate of piracy in the industry that might be a challenge.
Why do you think everyone wants to become a producer?
Before now, people go into acting for the passion and not the money, for example I am a theatre art graduate, I will say acting is my calling, but these days' people just act and produce movies for other reasons.
How many movies have you produced so far?
I have produced over twenty movies.
What are the challenges you face as a producer?
Finance is a problem; producers don't produce their movies with their money because there is no money, we only make money from movie premieres.
Producers get money from movie premieres?
Of course we do.
There seem to be many single mothers in the Yoruba sector of the industry, what is the reason for that?
I think it has to do with making the wrong choice. I will say they haven't gotten to their final destination that is why they are single mothers.
Does that apply to you too?
Yes, I think every single mother you see made a wrong choice.
What is your relationship with the father of your child?
I will keep saying that the father of my daughter is the best. He is kindhearted and he is a very good person. Forget whatever he might have said about me out of annoyance, we have a very good relationship.
Do you have plans of going back to him?
If God says so, why not!
Is there any man in the picture right now?
No, there is none.
What are the prices you have paid for stardom?
I have paid a lot; stardom has its advantages and disadvantages. The advantages includes preferential treatments wherever you go and the disadvantages have to do with being harassed by area boys, any time you are in the public.
What is your relationship with Bisi Ibidapo Obe at the moment?
I don't have any problem with Bisi Ibidapo Obe, when I buried my father she was there to support me. She is like a younger sister to me, we don't have a problem.
With your popularity you don't seem to have any endorsement, why?
I have endorsements; I have with a network called Voda Phone which is not out yet. I also have with Funky Diva Hairs and Yoyo Bitters. I don't like to make noise about these things.
At a time it was gathered that you worked as a dish washer in America?
I washed plates in London but that was in one of my movies 'Iberu Alako'. In the movie I also worked in a supermarket. The movie is about a lady who was living comfortably in Nigeria but was deceived by the lavish lifestyle of her friend who lives in London. She thought it was easy to make money abroad, she eventually travelled to London and was stranded, and then she had to work in a restaurant to survive.
What are you working on at the moment?
I just produced a movie 'Iyinoluwa' which is yet to be released. I will premiere the movie and officially unveil my NGO on the 23rd of July at the Lekki Coliseum. That is all I am working on for now.
What prompted you to establish the NGO?
I have two NGOs; one in my daughter's name, Damilola Ogunlana Empowerment Foundation and the other in my name, Lola Alao Foundation. My daughter loves to give things to children; I think she took after me. She said to me, mummy if you have an NGO I must have mine too. Whenever we go out to help children we go for my daughter and when we go for adults we do that for Lola Alao Foundation. Recently, we empowered women of Kogi state, I went with my team to Kogi state and we trained women on how to make hair, bake cake and do other things.
Subscribe for latest Videos