By Muoka Lazarus
I JOHN 5:4: "For whatsoever is born of God overcometh the world: and this is the victory that overcometh the world, even our faith."
A Christian major challenge in life is the world. This enemy called the world is the host to death, pain, sicknesses, diseas-es, deceit, divorce, killings, kid-nappings, sin and etc. For a Christian to triumph over the challenges posed by the world, he/she must abide in the Lord, for nobody is superior to the world than the Creator of the world. Abiding in Christ is conforming himself to His nature of right-eousness and holiness through His grace.
Anybody who lives outside the grace of the Lord or His protect-ive power is exposing himself to all the dangers posed by the world. But every regenerate Christian is a victorious conquer-or over his grand enemy — the world.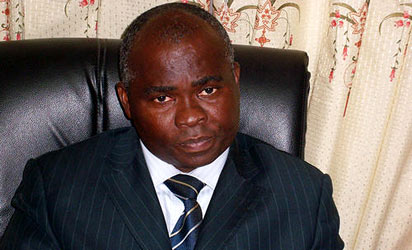 This is more so because as Christ has the world under His feet so also the genuine believer is riding on this victory of his Master to stand as a conqueror.
Brethren, any person who is not living in Christ is living in sin from which all trouble sprouts and is therefore prone to des-truction as he cannot be able to avoid the crises of the world because he is devoid of the divine protections that come from the righteousness of God.
That is why our Lord Jesus Christ forewarned us of the inevitability of the trouble of the world and how it could be overcame.
John 16:33 says: "These things I have spoken unto you, that in me ye might have peace. In the world ye shall have tribulation: but be of good cheer; I have overcome the world."
The Lord counseled that when you are living with the people of the world, you must expect to be persecuted, afflicted and tor-mented.
While you are in the world, dealing with the men of the world, you should always anticipate disenchantment and disaffection, both from within and from without, from friends and foes, heart-breaking troubles, soul-rending troubles, such as will make the heart to break, and the back to bend.
But amidst these troubles, the Lord assures Christians there will be peace, serenity of mind and calm temper of Spirit in Christ. When the world like a tempestuous air is full of storms, when the centre seems to be in disarray, when your spouse has deserted you, when sickness and diseases defy all solution and all hope gone, the Scripture assures there is safety in Christ.
When the enemy is pursuing and friends abandoning you, when you are under the torment of hunger and no helper around, the Scripture says Christ is there begging to supply all your needs.
When your boss is persecuting you and nobody cares to come to your rescue, Christ is there stretching His hands to you.
This liberty of the Christians is hinged on the premise that Christ has taken the sting out of every cross, and the venom out of every arrow. His blood purchased peace for the world, His word promised it to them, and His Holy Spirit seals it up to their souls.
There was a great and deep-rooted separation between man and his Creator as a result of the sin of Adam and Eve until Christ purchased our peace and re-conciled us with God. Christ is thus the author, centre, and substance of our being at peace with God. Hence a good follower of Christ is assured of peace and safety from heaven and that guarantees victory but anyone who is not in Christ suffers many tribulations, and there is no shred of safety anywhere for such person.
So, it is wise to live your life for Christ and in Christ so that it shall be well with you in Jesus name.
If one is not for Christ he or she is for Satan and is living for the devil. This type of people may be going to church but in spite of what they are confessing they tell lies and do everything contrary to the will of God and thus can never enter God's kingdom.
This is rather unfortunate be-cause it is not the wish of God for them not to make heaven. My prayer for all such people is that through this message they will retrace their steps and surrender totally to the will of God in Jesus name.
John 14:27 says: "Peace I leave with you, my peace I give unto you: not as the world giveth, give I unto you. Let not your heart be troubled, neither let it be afraid."
When the Lord promises to give us peace, it is not just a mere peace but the peace such as only Him can impart.
Not as the peace which men commonly pursue, such as pleasure, fame, wealth which plunge them into anxiety and remorse because they do not meet the desires of the immortal mind, and they cannot afford that peace which the soul needs.
When you live your life without Christ the peace you will have is the peace induced by mortal men. They will salute you with empty and flattering words, but their professed friendship is often feigned and has no sin-cerity.
God said you cannot be sure that they are sincere, but we can count on His peace. Men profess to give peace, but it is not real. It does not still the voice of con-science neither does it take away sin, nor reconcile the soul to God. But godly peace which God gives to those that depend upon Him is such as meets all the wants of the soul and amidst all external challenges, will abide in the hour of death and forever.
Beloved, let it be known to us that Christ's peace is vastly different from that peace which is given or enjoyed by the world; the world may wish peace, yet never intend it; or they may wish it, yet not be able to give it: but Christ's peace is real and effectual, solid and substantial; the world's peace is only a freedom from outward trouble, but Christ's peace is a deliver-ance from inward guilt: and though it does not give us an exemption from outward trouble, yet it gives us a sanctified im-provement of them, and assures us of a joyful and deliverance out of them.
As many who claim they are Christians but continue to live in sin should take advantage of this message and surrender their lives totally to Jesus Christ and prepare to live their lives for Christ Jesus otherwise the world and its accompanying trouble will be their ruin.