By Festus Ahon
ASABA—THE Independent National Electoral Commission, INEC, yesterday said it has registered a total of 71,039 prospective voters in Delta State in the first quarter of the ongoing Continuous Voters' Registration, CVR exercise.
Briefing newsmen in Asaba, on behalf of the Resident Electoral Commissioner, REC, Baritor Kpagih, the Administrative Secretary of the commission, Mrs. Rose Oriaran-Anthony,  explained that 39,749 males and 31,290 females were registered in the first quarter of the CVR exercise which started in the state on April 28 this year and ended last week Thursday.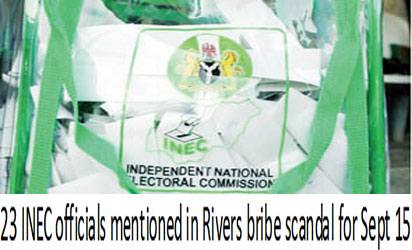 Oriaran-Anthony said that the second quarter will commence on August 1, when the printing of the Permanent Voters' Cards, PVC of the new registrants was also expected to commence.
Allaying fears in some quarters that the exercise has ended, she said  "Between now and August 1, a number of activities have been packaged to update the voters register."
She however, said that the 71,039 so far registered  may reduce,  following the elimination of double registration, adding that the names of the new registrants would be displayed for hearing of possible claims and objections from members of the public at the different registration centres across the 25 local government areas of the state.
"This is an important aspect of the process as our officers will be on ground to listen to claims arising from the collated data," she said.
This is the opportunity to ensure that names and all other details are properly captured without errors before the register and PVCs are eventually printed.
"This process will last for seven days and I am using this opportunity to call on the people of the state to make good use of the opportunity the display provides to cross check that their names, ages, address PUs and other details are well captured. It is also an opportunity to raise any objection to any name if any.
"At the end of the display period, the second quarter of the exercise is scheduled to commence and will go on till the end of the scheduled period. May I use this opportunity to reiterate that the CVR exercise is not about to come to an end now. There have been a lot of insinuations that the exercise is ended.
"What has come to an end is the first quarter, this is to enable the commission carry out some house cleaning as well as ensure that the correct PVCs are printed."
She said that additional 12 registration centres were approved for Delta State mid way into the first quarter because of the challenges of distance and terrain, adding that it would be sustained in the second quarter of the exercise.