By Godfrey Bivbere
THE anti-smuggling unit of the Nigeria Customs Service, NCS, Federal Operations Unit, Zone 'A' Lagos, has collected N2.5 billion from interception of contraband goods from importers attempting to under pay government for the imports in the first six month of the year.
The Unit intercepted various contraband goods with Duty Paid Value, DPV, of N1.3 billion, even as similar amount was collected from duty payments and demand notices on general goods that tried to beat the system from seaports, airport and border stations.
According to Customs, the importers of these items tried to beat the system through wrong classification, transfer of value, and short-change in duty payment that are meant for the government.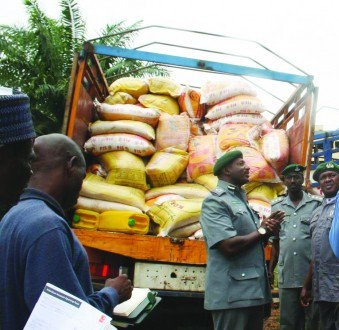 The cumulative DPV amounting to N1,295,600, 724.95 and revenue collections from duty payment/demand notices of N1,286,730,671.90 brought the total revenue for the period to N2,582,331,396.9.
Different seizures
Public Relations Officer of the Unit, Jerry Attah, noted in a statement that 95 suspects were arrested in connection with these seizures while 475 different seizures were recorded.
The seizures, comprising foreign parboiled rice, frozen poultry products, vegetable oil, smuggled vehicles, Indian hemp, arms, fake pharmaceutical/medicaments and various merchandise during the period under review, he noted.
The image maker said that the Customs Area Controller, CAC, commended the Service' management's for recognizing hard work and putting square pegs in square holes which resulted in the achievements of the Command. He said the Customs commended the commitment and diligence of the officers and men of the Unit for thwarting the antics of smugglers who used different methods for concealment.
He charged officers of the unit to be professional and diligent in performing their statutory responsibilities, especially in the area of anti-smuggling operations by making sure all revenue linkages are blocked.
He called for partnership of all stakeholders in the fight against smuggling because of the effect on society and the economy in general.