The Academic Staff Union of Universities (ASUU), Michael Okpara University of Agriculture, Umudike (MOUAU) chapter, has called for a Presidential Visitation Panel to conduct "a forensic staff and financial audit" in the institution.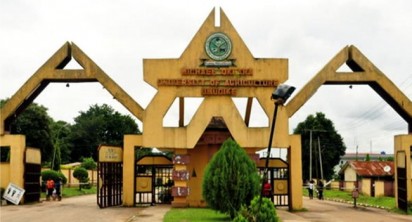 ASUU made the call in a statement signed by its Chairperson, Prof. Chinyere Echendu, and the Secretary, Dr Francis Nkaa, and issued in Umuahia on Friday.
The union made the call following the crisis that arose from the "controversial" appointments and promotions that allegedly occurred during the administration of the immediate past Vice Chancellor, Prof. Hillary Edeoga.
ASUU said that as prescribed by law, "a presidential visitation panel to MOUAU is due."
"We urge the Visitor, President Muhammadu Buhari, to dispatch a Presidential Visitation Panel to MOUAU as required by law to conduct a forensic staff and financial audit of the conduct of the business of the university from March 1, 2011 to Feb. 29, 2016.
"This would afford an opportunity for detailed investigation into what has become the 'stone age' in the life of MOUAU," the union said.
The union said the recent suspension of 440 temporary staff by the new Vice Chancellor, Prof. Francis Otunta, was in order.
It said that the appointments "automatically" terminated after one year, contrary to public opinion against the action.
"The temporary appointment automatically expired on its own as provided for in the extant laws of the university and as clearly stated in their appointment letter," it said.
It said the use of temporary appointment to fill academic staff vacancies "denied the university the opportunity to give candidates equal opportunity to select the best suitable candidates.
"We believe that a competitive selection process is the best option for recruiting high calibre faculty and administrative staff," the union said.
It said that following the union's petition, challenging the "flagrant abuse of temporary appointments by Edeoga's administration", a Presidential Fact-Finding Committee was sent to the university.
The union urged the institution's Governing Council to deal with the "weighty issues" uncovered by the committee without further delay.
It said some consequences of the "unbridled, temporary appointments" were 25 per cent reduction in staff salaries and non-remittance of authorised deductions from salaries. (NAN)