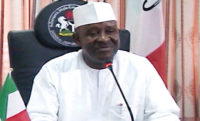 Ngilari
By Umar Yusuf
YOLA—AN Appeal Court sitting in Yola, the Adamawa State capital, presided over by Justice Folashade Omoleye, yesterday, discharged and acquitted former governor of the state, Bala James Ngilari, of a five-count charge bordering on corruption and unlawful procurement.
The appellate court set aside the ruling of a Yola high court presided over by Justice Nathan Musa.
Justice Omoleye said Ngilari was acquitted and discharged on the grounds that he was not a procurement entity as the trial court noted in its earlier judgment.
The court also averred that the former governor could not be charged as if he was an ordinary procurement officer.
Ngilari was arraigned by the Economic and Financial Crimes Commission, EFCC, over N160 million financial misappropriation and misconduct alongside the then Secretary to the State Government, Ibrahim Andrew Welye, and former Commissioner for Finance, Sanda Lamurde, without due process, in the award of contract for the purchase of 25 Toyota Hilux truck.
Mr. Welye and Lamurde were discharged and acquitted by the lower court for lack of evidence against them.
Recall that Ngilari had earlier been sentenced to five year jail term and then granted bail after spending barely one month in prison custody under controversial circumstances.