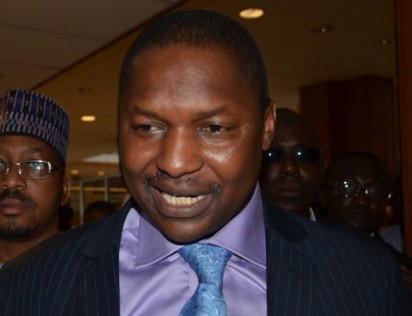 Abubakar Malami (SAN) . Photo by Gbemiga Olamikan
By Ikechukwu Nnochiri
ABUJA — The Attorney-General of the Federation and Minister of Justice, Abubakar Malami, SAN, yesterday, urged lawyers involved in the prosecution of corruption cases to pay strict adherence to the principle of justice.
The AGF maintained that government lawyers had a prominent role to play in current effort by President Muhammadu Buhari's administration to rid the country of corruption and recover looted funds.
He stated this at the opening ceremony of the 2nd Annual General Conference for Law Officers, organised by Law Officers Association of Nigeria, LOAN, in Abuja.
LOAN is the umbrella body of government lawyers working in various ministries.
The theme of the Conference was " Re-engineering the Law Officers sector for effective administration of justice in Nigeria."
In his address, Malami said the conference was conceptualized to bring together law officers from 36 states Ministries of Justice, legal experts as well as major stakeholders interested in furtherance of the fundamental commitment of LOAN towards capacity building of its members.
In his remarks, President of Nigerian Bar Association, NBA, Mr. Abubakar Mahmud, SAN, also emphasised need for government officials to be in the forefront of the ongoing anti-graft war.
On his part, President of LOAN, Mr. Solomon Usifoh Ibhadon, in his speech, requested the AGF to assist members of the association to come up with a reviewed salary structure.
LOAN's First Vice President, Yusuf Abdullahi Abdulkadir, also urged states yet to comply with the 1994 circular on harmonization to do so in order to block all leakages of corruption in the service.