When the Managing Director of nTel, Mr. Kamar Abass, talks technology, perhaps there are good reasons to listen. He was the Head of Broadband Commercial Strategy at Vodafone Group before he joined LM Ericsson, where he grew from different managerial positions, including VP services, Marketing and Business Development to the Managing Director of Ericsson Nigeria.
As the Chief Executive of nTel, Kamar, has in one year, given those who gave him 15 years head start a run for their money. He believes, though, that with 4G every other player is actually trailing nTel
Excerpts: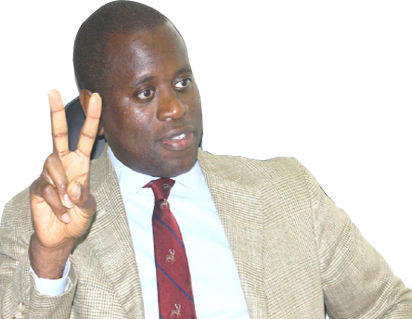 By Prince Osuagwu
NTel is one year, how has it been?
We have made great progress in the past one year. In just this quater we established a network of sites in three cities. That network of sites gives us a program of approaching the best broadband coverage available in those cities. We have a full team of people, more than 300 employed directly and 800 to 900 employed indirectly in our operation, sales and customer care teams, if you take the widest possible interpretation of supporting intern.
We have set up ourselves so we can provide full customer care. We have a full suite of products; voice, data and messaging. We are pretty pleased with where we are today and are building up to start a new round of implementation of new sites which will take us into new states and new cities, expanding our coverage to potentially a dozen more states within the next nine months.
How far has your investment in Nigeria grown as regards coverage?
We made the acquisition of NITEL at $252.3 million; certainly we have spent a considerable amount on top of that to get to where we are today. We need to go further and will probably spend multiples of what we have spent so far to get full expansion.
It is not just about sites, it also about the capacity in those sites, the capacity of the links to Lagos, our international links and it is the capacity of our core network system and of course the demands we have to meet. This is all part of what we have to do and do well.
We have systematically ensured quality, consistency of service and the ability to keep the distance with the competition, which we have established so far.
What were the challenges you encountered when entering Nigeria's market with 4G at a times other operators were providing 3G?
What we saw and still see is an enormous demand for broadband. In contrast to where 3G can take you; 4G is a much more complete mobile broadband technology and solution. It is designed for the most demanding data use paces; video and high speed video. It can meet mass market demand provided you have the right spectrum, which we have and it is the best in Nigeria for 4G.
More importantly, it gives operators a level of efficiency that they can pass on to customers in terms of lower prices, as well as make it easier for all ranges of the population to access data, because that is the way the market is. The demand for data is for everyone, it is not just certain people in certain positions. Everyone can achieve productivity, financial improvement, flexibility and security gains from the use of mobile broadband and that is why it is so important for it to be accessible to all. And that is our mission.
Any challenges with most users having predominantly 3G devices?
In the same way that you had to buy a 3G handset when you were moving from 2G to 3G, you have to do the same to enjoy 4G services. But the handset should not be the issue; to us it doesn't seem to be the issue because the cost of the services over 24 months will be way higher than the cost of the handset. We have to make the handset available and some are emerging. We do not have the full range of handsets but there are quite a good number available.
Yes, people have to buy handsets but compared to the cost of the service, as well as the productivity and efficiency gains, it is a small amount. We have not heard that the price of the handset is a problem, the range is. We think that what we need to do is make sure customers have access to a wide range of handsets. Above all, we are focusing our attention on solid broad coverage, making sure we cover customers in places they live, work and play. Importantly, we cover areas that are today covered by 3G, so that customers have a real choice where there is a broadband demand to consider 4G as well, and that is what they are doing in large numbers.
Competitors gave you 15 years head start, how do you intend to hold your ground and be relevant?
I do not accept that they have a 15 year head start because they didn't deploy 4G in 2001. They deployed 2G, then 3G and we came to a market in which in 2016 when we launched there were fewer than 1,000 4G sites, now there are 7,000 4G sites, who is late to the party? It's not us. We have led the  transformation of our market from a dominant narrow brand market to one where big investments are everyday going into 4G.
We are proud of having driven that change. We saw the nature of the technology, the nature of the demand and the way in which we have to build the best broadband network and we did that. We could have done 2G, many were pushing for us to do 2G but we refused because we saw that 4G is where the market is going to. 4G is technology built for where customers are today and where they are headed in the future. In Europe 3G was implemented more than 10 years ago. Even 4G was first implemented in 2009 in Sweden; this means that 4G is very mature technology in relation to data needs.
We see ourselves as being part of leaders in the broadband space, which is why we are focusing on 4G. The 2 and 3G broadband space, we have absolutely no aspiration in that area, that's history. The future is 4G, 5G, data and mass demand for high volumes of data. That is where our network, spectrum and approach to rolling out will really come into its own. The forecast is that we will have more than 100m broadband customers by 2020; honestly that is a big enough market for eight to nine operators.
We are not concerned about competition because we get the sense that even if every operator provides efficient services, it will still be a very big market. And we are committed to growing into that market with services, coverage and high quality experience. We are committed to doing that and we will, provided we do that in the right way, there should be no difficulty in finding enough customers to satisfy our shareholders.
How have you been coping with the recession?
We started trading about a year ago so it is hard for us to think of any world other than the one we find ourselves. We don't think back to 2001 or 2014 where things were to be different. We are where we are and we progress on that basis. To be honest, I think we have had a great start, we got the network substantially built, we are getting customers, and we are growing the number of customers every single day, customers that are happy and having a great experience that can be attested to. We are doing what we can to improve the quality of that experience and improve saleability; the way we can grow the number of customers without growing our cost in the same degree. We are putting efficiencies in and really trying to get the network to do the best that it can.