By Jimitota Onoyume
PORT HAR-COURT— GOVERNOR Nyesom Wike of Rivers State  has accused the new board of the Niger Delta Development Commission,  NDDC,  of allegedly diverting funds meant for development of the region to nurturing the political aspirations of some of its members for 2019.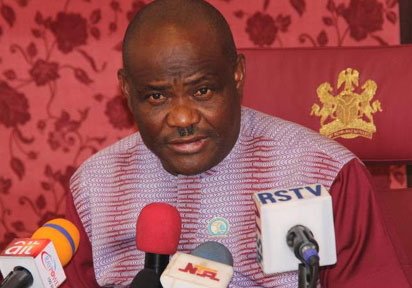 The governor who spoke yesterday, at Government House, Port Harcourt, noted that  there was no way the commission could achieve its mandate with some of the board members nursing governorship ambition, adding that the place had been allegedly  reduced to a  fund raising ground to oil political dreams.
He said: "NDDC is a fund raising commission for politicians who want to run for elections.   The way NDDC is structured, it will not work. There is so much corruption in NDDC because board members are working to amass wealth to contest elections  in their various  states."
The governor feared that the current board had abandoned its mandate for politics, adding that the state government wrote to the commission  in 2016, suggesting projects that it should handle for the state but nothing was done.
He said: "NDDC reneged on its agreement with the Rivers State Government on the Mother and Child Hospital, even after the state government  had paid its counterpart fund of N800million, while the NDDC  refused to pay any kobo from its N900million contribution.
"If the Federal Government wants NDDC to work, why appoint a person who plans to contest  the governorship election of his state? Why not appoint  a technocrat?" Governor Wike asked.