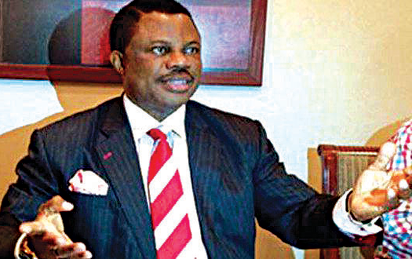 Chief Willie Obiano
By Vincent Ujumadu
GOVERNOR Obiano's achievements in the area of security would guarantee his re-election, a top politician in the state, Dr. Okey Odunze, famously known as Caterpillar has said.
Odunze was a governorship aspirant of the defunct Social Democratic Party (SDP) in the old Anambra State and was reputed to have contributed to the emergence of many civilian governors in the state since the present democratic dispensation due to the large followership he has in the state.
He recently joined the Obiano campaign train and has vowed to deliver him to stop those he described as the brains behind the burning down of government property during the dark days of Anambra politics in 2004 from returning.
Since declaring to stop those challenging Obiano, Odunze has been going round the various local government areas of the state, advising those challenging the governor in the November 18 election to withdraw in their best interest because Anambra people have not forgiven them for the mayhem they allegedly masterminded in the state.
"If not for anything, Governor Willie Obiano should be re-elected for chasing away criminals out of Anambra State, which has made the state the most secured state in the country. It is not easy fighting kidnappers and armed robbers to a stand still and chasing them out of a state," he said.
According to him, crime fighting had also made Obiano the best governor in Nigeria. He specifically called on all governorship aspirants from the South senatorial zone to drop their ambition and support Obiano so as to be sure of getting Obiano's support in 2022 to produce the governor of the state.
He also assured that if all the APC aspirants support Obiano in 2017, all members of the All Progressives Grand Alliance, APGA, will vote overwhelmingly for the presidential candidate of APC in 2019.