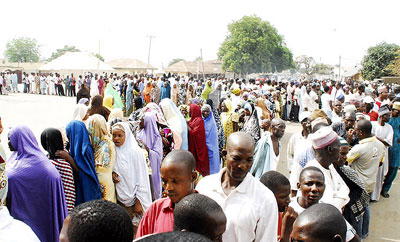 Female voters (with men) at Keffi, Nasarawa State during Saturday botched National Assembly election.
The Nasarawa State Government has invoked the the `no work no pay' policy on striking public sector workers, the state Head of Service, Mr Thomas Ogiri, announced on Thursday.
Ogiri said in a statement issued in Lafia that the action was in line with the labour law which stipulated that worker on strike would not be entitled to wages or remuneration throughout the period of the strike.
The official, however, assured that civil servants not participating in the ongoing strike would be paid their salaries.
The government directed all Permanent Secretaries and Accounting Officers of Ministries, Departments and Agencies to undertake table payment for May 2017 salaries to "deserving staff."
Reacting to the order, Ahmed Naibi, Secretary of the state chapter of Nigeria Labour Congress (NLC) said the government had no right to take the action.
According to him, the no work no pay policy applies only if workers abscond from duty for no good reason.
The NLC scribe stressed that the law quoted by the government also gave workers the right to embark on strike, adding that the striking workers would not be intimidated.
He explained that the strike was over non payment of February and March 2017 workers salaries.
"The government only paid January 2017 salary then jump to pay April salary without paying the February and March salaries," he said.
The state NLC scribe, therefore, called on the workers to ignore any threat by the government and remain at home until otherwise directed by the union