By Simon Ebegbulem
GOVERNOR Godwin Obaseki of Edo state has called  on Muslims to pray for the quick recovery of President Muhammadu Buhari and stop those making hate speeches, saying the unity of this nation must be sacrosanct.
The Governor who said that his administration would soon constitute a Hajj and Muslim Welfare Board with a view to have a properly organized Hajj committee that will ensure the welfare of intending Hajj members this year, expressed joy that the Imans in the state came to Government House to broke their fast with him Tuesday urging Nigerians to discuss issue that will unite the nation rather than those capable of destabilising the country.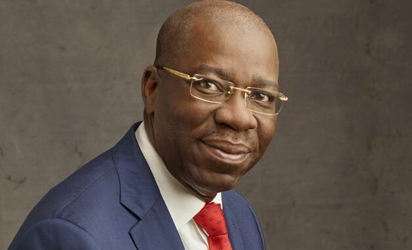 "This is a night of fellowship with our Muslim brothers, as we join them in prayers during this period. I thank you for taking time out to come and break your fast here in Government House. We are happy to receive you and we will continue to join you in prayers. Know that Allah in his infinite mercies will speedily answer our prayers.
"We must continue to pray for the quick recovery of our President and distance ourselves from those making hate speeches.  We must sustain the peace we are enjoying in the country and Edo state in particular because we can achieve a lot as a united nation or state than a divided one. Let us preach peace and love and not hate because this nation must survive no matter what the enemies of democracy are doing" he declared.
Speaking earlier, the Chief Imam of Benin Central Mosque, Alhaji Abdulfatai Enabulele, thanked the governor for the warm reception accorded the delegation, explaining that "We want to thank you for the food items you distributed to our Muslim brothers and sisters during this period across the state. We appeal to you to approve a space for us here in Government House where we can observe our five times daily prayers."
He further commended the achievements made so far by the Obaseki led administration and vowed that Muslims in the state will continue to support the administration.