By Emeka Aginam
Mobile phone operator, Etisalat Nigeria has confirmed that it is still in discussions with its banking consortium regarding existing obligations under the syndicated loan agreement signed in 2013.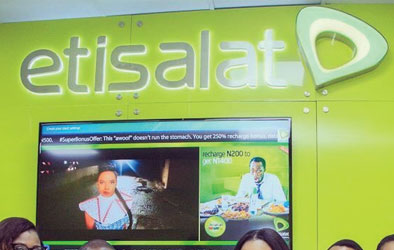 The telecom company in a statement to Vanguard yesterday further noted that they have not received any formal communication from the lenders regarding the proposal.
"Whilst we are aware of recent news reports stating that the offer has been rejected by the banks, we cannot confirm this as true as no formal communication has been received from the banks regarding the proposal.
"Etisalat has so far held robust discussions with lenders in good faith, and we hope that all areas of discord will be resolved in due course. Indeed the current economic challenges have occasioned untold hardship on the telecom industry as a whole, thus requiring a major shift in position by all affected parties.
"We continue to explore all available options to pull through this phase. We will continue to engage all relevant parties in earnest with a view to securing a mutually agreeable outcome.
"Furthermore, we are not taking anything off the table at this time, and Etisalat assures all stakeholders that the ongoing discussions are not intended nor expected to impact negatively on the company's ability to continue providing seamless communications services to our subscribers.
Etisalat will continue to focus on providing uninterrupted services to subscribers on our network", Etisalat added in the statement