BY NDAHI MARAMA with agency report
MAIDUGURI – Following infiltration and sporadic shootings at innocent civilians by suspected members of dreaded boko haram on Wednesday, troops of Operation Lafiya Dole has said that there is no cause for alarm.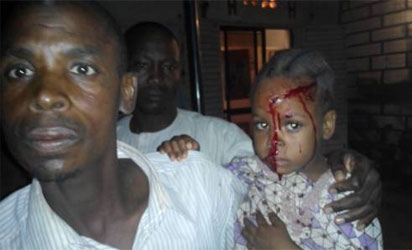 According to a press statement issued by Spokesman of the Army in Maiduguri, Luetenant Colonel Kingsley Samuel, Deputy Director Army Public Relations 7 Division said "The situation in Maiduguri is under control. The general public is requested not to panic and stay calm.
In the same vain, the Police Public Relations Officer, Victor Isuku in a statement said, "Please everyone should calm down, and remain indoors. The police and the military have mobilised enough reinforcements to the scene. Details follows later!"
It would be recalled that heavy armed terrorists infiltrated Maiduguri, the Borno state capital through Jiddari/ Polo/ Federal High Court General area on Wednesday at about 6:45pm, leading to the displacement of hundreds residents who fled for safety.
Suspected Boko Haram jihadist militants attack key northeast Nigerian city
Nigeria | unrest
It was unclear if there were any casualties after the assault on Giwa military barracks and three suicide bombings in the Usmanti Muna area of Maiduguri, the capital of Borno state and birthplace of Boko Haram.
"Some suspected Boko Haram attempted to attack a village far off and our troops ranged (subdued) them," Nigerian military spokesman Brigadier-General Sani Usman said in a short statement.
"There was an attempt by a few suspected Boko Haram to attack… and all have been neutralised. Situation cool and calm," Usman said.
The attacks took place just a day before Vice President Yemi Osinbajo is set to visit the city.
Residents said a group of fighters believed to be loyal to embattled Boko Haram leader Abubakar Shekau led the attack starting around 5:00 pm (1800 GMT) in the Aridawari settlement on the outskirts of the city.
"The gunmen came to the village firing heavy guns and setting fire to homes," said Aridawari resident Musa Umara.
People were "fleeing in all directions," Umara added.
The suspected jihadists then drove towards a military base through Jiddari-Polo neighbourhood firing heavy guns, said resident Salihu Abdallah.
"They (attackers) were confronted by soldiers when they approached Giwa (military) barracks at around 6:30 pm (1900 GMT)," said Abdallah.
"I and my family hid in the kitchen as soldiers fought the Boko Haram gunmen because the sounds of the heavy guns were terrifying," said a teacher at the Maiduguri university located near the military base.
The attack comes after a lull in Boko Haram activity as the Nigerian military continues a sustained offensive against the jihadist group.
Last month Nigeria released five Boko Haram commanders in exchange for 82 schoolgirls who were among the group of over 200 kidnapped by the Islamists from the town of Chibok three years ago.
In an video released online days after the prisoner swap, one of the released commanders threatened to attack Maiduguri and Nigeria's capital of Abuja.
Boko Haram has killed over 20,000 people since it took up arms against the Nigerian government in 2009 to establish a hardline Islamist state.
The insurgency has decimated northeast Borno state with the violence displacing 2.6 million from their homes and causing a hunger crisis.