A trending story on Facebook has claimed that one of the Indigenous People of Biafra, IPOB, supporters has allegedly claimed that a handshake with the leader of the pro-Biafra group, Mazi Nnamdi Kanu had him healed of his stomach pains.
The story posted by a face book user, Engr. Valentine Zimuzo Odogwu has seen the social media abuzz as many have begun to wonder if Mazi Nnamdi Kanu has healing powers in him too aside his being a Biafra freedom fighter.
The IPOB supporter who claimed he got his healing from the Biafran leader when Mazi Kanu visited his hometown also said that Mr. Kanu has become a prophet..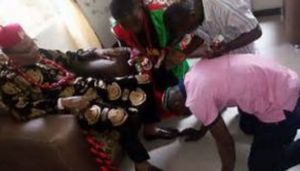 According to the post on the Facebook user's timeline, "My Handshake with Mazi Nnamdi Kanu (Nwachineke) today!!!.
"Minutes ago my great town ozzuh villa, Umunnachi hosted the Prophet of Biafra land.
"He took time to greet both the elders and youths present.
"One of the youths who also had a handshake with the Prophet, confirmed that his stomach pains of about two months disappeared immediately.
"Biafran restoration seems closer than ever.
"All hail Nnamdi Kanu…"
Recall that lately, in fact, after Mazi Kanu was granted bail by the courts, photos of him dressed like a Jewish scribe and having some IPOB supporters kneeling and bowing to greet him flooded the social media.
Some of the photos also who him covering his head with the Jewish scarf and raising his hands heaven-wards in presumed prayers just like the bible shows Jesus did when He was on earth.
And many have begun to ask if Biafra has turned a religion, away from the political emancipation it sought from Nigeria.
Can any Biafran explain this?
Type your comments below lets know your thoughts.
Subscribe for latest Videos