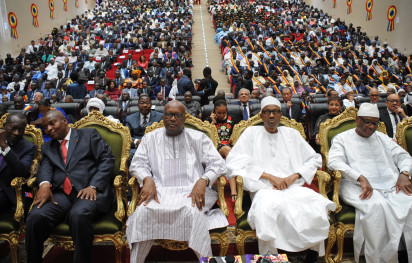 (L-R) Benin's president Patrice Talon, Central African Republic's president Faustin-Archange Touadera, Burkina Faso's president Roch Marc Christian Kabore, Nigeria's president Muhammadu Buhari, Mali's president Ibrahim Boubacar look on during the inauguration of Chad's president Idriss Deby (not pictured) for his fifth term as president on August 8, 2016 in N'Djamena. Chad's President Idriss Deby took the oath of office August 8 for a fifth term in power, facing dogged resistance from an opposition that alleges his re-election was a "political hold-up". With tensions high a day after the death of a protester during an opposition march, around 14 African heads of state attended the swearing-in ceremony, including the presidents of Nigeria and Niger, both, like Chad, battling the Boko Haram jihadist group. / AFP PHOTO / BRAHIM ADJI
The UN Security Council on Wednesday unanimously adopted a resolution paving the way for the deployment of a five-nation African military force to fight jihadists in the Sahel region.
What are the origins of the force to number up to 5,000 troops from Burkina Faso, Chad, Mali, Mauritania and Niger, and why is it needed?
– Why now? –
Burkina Faso, Chad, Mali, Mauritania and Niger — the so-called "G5 Sahel" countries just south of the Sahara — first raised the idea of a regional force in November 2015 in Chad's capital, N'Djamena.
The idea resurfaced in the light of the deteriorating security situation in Mali, and following mounting incidents of jihadist violence in neighbouring Burkina Faso and Niger.
In January, those three countries decided to create a joint security force on their mutual borders, and in February Sahel heads of state announced the "immediate" creation of a troop corps from all five countries.
France, which tabled the UN resolution passed on Wednesday, carried out a military intervention in Mali in 2013 to drive out jihadist groups, some of which were linked to Al-Qaeda, who had seized key cities in the country's north.
Although the Islamists have been largely ousted from the north, jihadist groups continue to mount attacks on domestic and foreign forces in violence that now has also engulfed parts of central Mali.
Spillover attacks in Burkina Faso and Niger are causing increasing alarm.
– What is the force's mandate? –
The force is expected to deploy up to 5,000 military, police and civilian personnel for an initial period of 12 months, but the amended resolution submitted to the Security Council does not give it full UN authorisation.
It will be led by General Didier Dacko, a former chief of the Malian army.
The force will operate in border areas and work to eradicate the actions of jihadist armed groups and other organised criminal groups.
The UN resolution "welcomes the deployment" of the G5 force which is aimed at "restoring peace and security in the Sahel region" and drops a provision that invoked chapter 7 of the UN charter, which authorises the use of force.
The United States had argued that a simple statement welcoming the regional force would have been sufficient, but France insisted that a full resolution was needed in line with a request from the African Union.
UN Under-Secretary-General for Peacekeeping Operations Jean-Pierre Lacroix said on a visit to Mali in May that a phased rollout was envisaged for border regions of the country's centre, an area that has seen an uptick in attacks once concentrated in the restive north.
– What about the existing foreign forces in Mali? –
The force will have its headquarters in Mali, but will be under a separate command from the UN peacekeeping force MINUSMA, which has been deployed in the country since 2013.
It is also separate to but will complement the work of France's own 4,000-strong military presence in the region, known as the Barkhane force.
Lacroix has insisted on clearly defined roles for the three different deployments which will now be operating in Mali.
UN Secretary-General Antonio Guterres has called for "close cooperation" between any G5 force and Barkhane. It could offer an "improved operational environment for MINUSMA," which has suffered funding shortfalls and the deaths of dozens of peacekeepers, he said.
However he urged nations to "maintain their contributions to the (UN) mission", a possible reference to Burkina Faso, Niger and Chad whose troops already make up a third of the manpower of the MINUSMA force.
– How will the Sahel force be funded? –
France had initially pushed for a report from UN Secretary-General Antonio Guterres on much-needed logistical and financial support for the new force, but in negotiations that language was dropped.
The draft resolution instead requests that Guterres report on "challenges encountered and possible measures for further consideration" in the coming months, which could include funding.
The European Union has already promised 50 million euros of support, with diplomatic chief Federica Mogherini citing stability of the Sahel region as "crucial not only for Africa but also for Europe."
The UN resolution passed Wednesday also encourages "further support from bilateral and multilateral partners" for the force's costs.