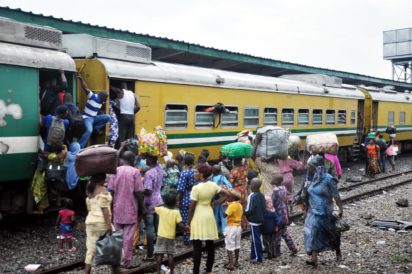 Passengers at the Departure of Nigeria Railway Corporation, Terminus Ido, Lagos Board Omoluabi Free Train to Osogbo, for Eid-El Kabir Celebration Provided by Osun state government; Pix: Some Passengers Entering Train, on. 10/09/2016. Photo: Bunmi Azeez
By Victor Ahiuma-Young
LAGOS—Nigeria Union of Railway Workers, NUR, yesterday, in Lagos, pleaded with the Federal Government to review the  process of the planned concessioning of the nation's rail transport industry with a view to saving the nation from another failed concession.
This came as the union lauded the Federal Government for the reconstitution of the National Council on Privatisation, aimed at ensuring effective concession of railway track system.
NUR, however,  lamented that the statutory Act of Parliament of 1955, which confers monopoly of railway business on Nigerian Railway was yet to be unbundled and replaced with another legal framework that would provide both public and private investors with a level playing ground on investments into rail transport sub-sector.
NUR in a statement by Secretary General, Segun Esan, said: "We have not been fortunate enough to get privatization or concession really right in this country probably because of our policy inconsistency, corruption and lack of political will. With the hasty way railway concession is being pursued, we feel that caution should be taken.
"We wonder why all the inventories on the entire assets of Nigerian Railway should be handed over to a preferred concessionaire whose document of expression of interest predates the newspaper advert for the bidding. General Electric, GE's expression was dated September 2016 and advert for expression of interest for the bidding was in January, 2017.
"Apart from this, the General Electric, GE, requested for a zero percent transfer of workers while the Ministry of Transportation is saying that 20 of the present workforce will be absorbed by the GE and the remaining 80 percent of the workforce will be sent to a University of Railway Technology that will be established by the concessionaire.
"This sounds strange and stands in outright contrast to simple logic. A honest and public-spirited concession will squarely address all labour engagement and disengagement issues."