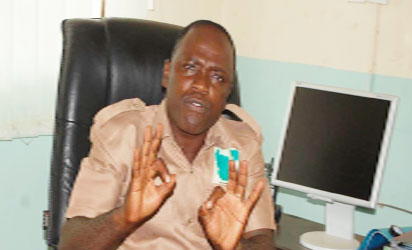 Umukoro
Comrade Ejoor Umukoro, national coordinator, Niger Delta Equity Forum, NDEF, and President Isoko Development Union, Edo State chapter spoke in an interview on the pace and pattern of politics and governance in Delta State.
HOW do you assess the   Delta State Governor, Dr. Okowa after two years in office?
The Governor Dr. Okowa is a great guy, his campaign agenda, prosperity for all Deltans, by my observation has been going on well with roads being built, he has been trying to be everywhere. The only problem I see is availability of funds. So far he is trying, we wish him the best.
So what is the situation in Delta State and Niger Delta now?
Delta and Niger Delta are affected because so much was promised and very little or nothing has been done, hence the place still has the silence of a war zone. The people are still angry, they feel they cannot be by the river side and wash their hands with spittle or be in the kitchen and be hungry, they can't be bakers without cake to eat.
Remember recently during his first period as acting president Professor Yemi Osinbajo toured the Niger Delta and gave promises for which the people kept calm, and very soon if nothing is done, the agitation may start again. See when men are frustrated as the Niger Delta people feel, they may be forced to take action to be properly recognized. You can see Nigeria is still sitting on a keg of gun powder so its about time the leader of the country starts doing things equitably.
How do you mean the country is on a keg of gum powder?
When you consider the political equation of the country, you see that the North has been having the leadership position more than other geopolitical zones. In 2019 the North will still contest for power don't forget that the South is yet to complete two terms before being voted out in 2015, so we are saying that should the president be unable to contest in 2019 for health reasons though I wish he does, the North should give us a credible candidate.
Another thing is this issue of fighting corruption, we the NDEF believe the way they are going about it is wrong . They appear to be selective, when you look at recent happenings particularly concerning the immediate past First Lady Dame Patience Jonathan, this is someone with a pet project still running even after her husband has left office, she is still taking needy children out of the streets. This government should change its mind set and focus on moving us forward. Other first families that ruled this country were not treated this way. Could it because they are southerners, what is good for the goose is good for the gander. Goodluck Jonathan and his wife should be left in peace.
What is the main agenda of the Niger Delta Equity Forum?
We are a group advocating  equity and justice, for peace to reign in Nigeria. We see a need to change the impression that we are violent people, so we are a mediator group between our youths, elders and political leaders as well as, between our region and other geopolitical zones of Nigeria. Let everybody know that if things are done properly we can co-exist in peace that is why the rotation of the presidency is very important, in fact a paramount issue in Nigeria.
That is why we are going round to talk to our brothers in the North, East and west to foster unity because we don't have another country, you can see the way Nigerians are being deported even from other African countries.
How do you plan to achieve this and how do you work with the two major political parties?
Presently we have made arrangements to see many of our past leaders in the north. I would not disclose now for security reasons but we have corresponded with them and they are happy and eager to meet us. All past leaders of the country and even the sultan and emirs. To tell them that, we can live as one. All the militancy can be done away with, be they Boko Haram, OPC, Fulani Herdsmen, IPOB, e.t.c. We Niger Deltans are willing to share the space called Nigeria and it should be equitably done fair and square.