By Victor Ahiuma-Young
Unavailability and erratic supply of power across the continent have been identified as the biggest impediment to Africa's growth, with an advise to governments to invest in the sector to drive growth.
The President/Chief Executive of the Dangote Group, Alhaji Aliko Dangote, stated this as one of the panelists at a forum organised by the World Bank Group and the African Centre for Economic Transformation, ACET, in Accra, Ghana.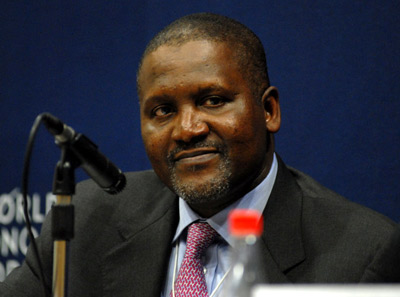 Alhaji Dangote said: "No power, no growth. We need to make sure we tackle the issue of power."
Dangote said small businesses on the continent can never survive without stable power when the income or revenue generated was used in purchasing diesel to power and service generators.
According to him, "these generators are meant to be backup or standby. But now the generators are those that are providing consistent power and the grid is now standby.
"That does not make sense. For example, the entire state of Kano, with a population of 21 million people, has a power supply of less than 35megawatts from the grid. These are the issues we need to tackle."
Meanwhile, Dangote Group has signed a joint venture agreement with the Black Rhino Group to develop a $5 billion (about N1 trillion) energy infrastructure in Africa. Black Rhino is a subsidiary of the Black Stone Group.
The joint venture agreement is looking into setting up power plants in Kano and Abuja.