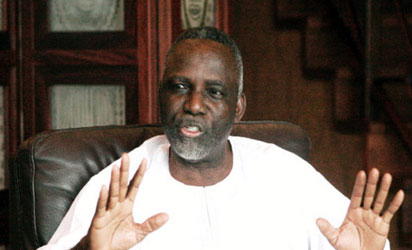 Prof. Bath Nnaji, former minister of power
By Dennis Agbo
ENUGU—FORMER Minister for Power, Prof. Bath Nnaji, will  tomorrow speak on the successes and challenges of power generation, transmission and distribution in Nigeria.
He is slated as guest speaker on the third edition of African Heritage Institution's lecture series known as 'Big Ideas Podium.'
Nnaji is expected to dissect issues in Nigeria's power challenges, the scourge and impediment to nation's development.
Big Ideas Podium is one of the talk series of Afriheritage Institution in Enugu where the former Governor of Central Bank, CBN, Prof. Chukwuma Soludo, sits as the chairman, Board of Directors.
The first and second editions had featured as guest speakers, former Governor of Cross River State, Donald Duke, and former Ambassador to United Nations, Prof. George Obiozor, respectively.
Executive Director of the Institution, Prof. Ufo Okeke-Uzodike said Nnaji, among other discussants, will look at the challenges of electricity and its implications for the Nigerian economy and unity.
Uzodike said "The Podium will provide opportunities for lively debates and possible solutions on how to deal effectively  with electricity challenges facing Nigeria in order to enhance economic activities for improved economic growth, development and national unity.
"The outcome of the event is expected to inform not only our understanding of issues around electricity but also policy decisions on how best to ensure that Nigerian industries, towns and communities are effectively powered for transformative develop ment and sustainable peace."
He noted that it was regrettable that whereas the standard for electricity generation and consumption for any developing country is at least one megawatts for a population of 1,000  people, Nigeria with a population of about 180 million people is generating below 4, 000 megawatts of electricity.
"This imposes major costs on Nigerian economy totaling more than 20 billion dollars annually on the national GDP," Uzodike said.