Restructuring has become the latest buzz word in the political landscape with political and non political actors pushing forward their ideas of the word that was not too long ago, an anathema to many state actors.
But what exactly is the idea of restructuring? Given the view of some that Nigeria is presently a federation, it is not surprising that different political actors would give different perspectives to the concept of restructuring.
Among those to have given life to the concept of restructuring are General Ibrahim Babanigda, former Vice President Atiku Abubakar and some pro-democracy activists.
Their ideas on what restructuring means is presented hereunder.
By Emmanuel Aziken, Political Editor, Clifford Ndujihe, Dapo Akinrefon &  Charles Kumolu
GENERAL Ibrahim BabangidaI will strongly advocate for devolution of powers to the extent that more responsibilities be given to the states while the Federal Government is vested with the responsibility to oversee our foreign policy, defence, and economy. Even the idea of having Federal roads in towns and cities has become outdated and urgently needs revisiting. That means we need to tinker with our constitution to accommodate new thoughts that will strengthen our nationality.
Restructuring and devolution of powers will certainly not provide all the answers to our developmental challenges; it will help to reposition our mindset as we generate new ideas and initiatives that would make our union worthwhile. The talk to have the country restructured means that Nigerians are agreed on our unity in diversity; but that we should strengthen our structures to make the union more functional based on our comparative advantages.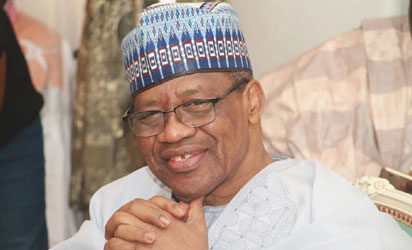 Added to this desire is the need to commence the process of having State Police across the states of the Federation. This idea was contained in my manifesto in 2010 when I attempted to contest the presidential elections. The initial fears that State Governors will misuse the officers and men of the State Police have become increasingly eliminated with renewed vigour in citizens' participation in, and confidence to interrogate power. We cannot be detained by those fears and allow civilization to leave us behind. We must as a people with one destiny and common agenda take decisions for the sake of posterity in our shared commitment to launch our country on the path of development and growth.
Atiku Abubakar
There is no doubt that many of our states are not viable, and were not viable from the start once you take away the federation allocations from Abuja. We have to find creative ways to make them viable in a changed federal system. We can constitute a body of non-partisan experts to suggest other ideas. But in all, we must devolve more powers and resources from the federal government and de-emphasise federal allocations as the source of sustenance of states. We need to start producing again and collecting taxes to run our governments in a more sustainable way with greater transparency and accountability.
It's restoration of federalism — Osuntokun
MR Akin Osuntokun, Political Adviser to former President, Chief Olusegun Obasanjo is a former Managing Director of the News Agency of Nigeria, NAN.
Restructuring is simply a call for the restoration of federalism-the foundational constitution structure to which all Nigerians subscribed as encapsulated in the independence constitution of 1960. This constitution was violated in 1966 and the violation set in motion a chain of events that has culminated in the present abnegation of a 36 states structure against the four regional structure that emanated from the independence constitution. All the ills presently plaguing the country are directly or indirectly a consequence of the wrong anti federalist diversion Nigeria took in 1966.
The violation has concomitantly resulted in the unitary command culture of military dictatorship-in which the constitutionally prescribed decentralization and devolution of powers have been subverted and supplanted with centralization of power.
Independent self- sustaining federating units —Shonibare
CHIEF Supo Shonibare is a chieftain of the pan-Yoruba socio-political organization, Afenifere.
I would wish that we have a Federation with independent self- sustaining Federating units able to develop infrastructure, critical amenities, undertake other developemental  projects , education and health without a Centre body interfering.
We already have geo-political zones. Why don't we have say 6 or 8 Regions from that template, enable the Regions exercise the functions presently being exercised by the FGN in the various States &  co-ordinate such functions & utilize economies of scale. Each Region should be at liberty to create more States in their region as their constitution stipulates. Minority rights will be entrenched in the Federal Constitution to protect minorities in the Regions & enable them evolve into States.
We do not need bi-cameral National Assembly, the Regional Assembly can collectively act as checks & balances on the unicameral National Assembly on issues & functions presently exercised by the present bi-cameral National Assembly chamber. We will reduce costs & also enable closer engagement with the electorate from the region.
Functional structure'll end calls for restructuring — Kokori
Former General Secretary, National Union of Petroleum and Natural Gas Workers Union, NUPENG, Chief Frank Kokori.
Kokori, a veteran in the struggle for a better polity, explained his assertion thus: "In Nigerian terms when people talk about restructuring, they say they need true federalism. I don't know what true federalism is because federalism is federalism. A nation that practices it as a system of government must abide by its tenets. That is what the constitution says. Because of the military incursion into politics in 1966, Nigeria became a unitary government.    So they were not following the tenets of the constitution that allows for devolution of powers to the federating units. It is on that basis that the minorities are demanding to restructure. If we had real federalism, there will not be agitations. Real federalism was what we had before 1966 when the regions had their own institutions.
"The reason agitations are going on this country is because certain people feel they are marginalized but I know that the whole country is marginalized because of bad governance and corruption. I am for real federalism, the federal government should be left with some residual powers on defense, currency Foreign Affairs, and others while the states should be given powers over other affairs. To douse the present agitation in the country, the federal government needs to be serious.
If you ask me what I really want for this country, I will want us to revert to the 12 states that Gowon created. We should have that structure instead of having many states to the next that every village wants to be a state. If we do that, Nigeria will move forward.
Let's return to regionalism with six zones as federating units – Ikokwu
Second Republic politician, lawyer and a member of the Ime-Obi, inner caucus of Ohanaeze Ndigbo, Chief Guy Ikokwu.
The military command after the civil war unitarised the country and diminished the percentage of the formula of derivation. For instance in 1946 the derivation formula for the regions which controlled their resources was 100 per cent, while in 1951 the British recommended 50 per cent derivation, whereas in 1953 the western region actually disbursed a 100 percent of resources they controlled.
The 50 per cent derivation continued from 1960 at independence up to 1970 when Gen. Yakubu Gowon reduced the derivation formula to 45 per cent and by 1975 it was reduced to 25 per cent. Nigerians should know that in the first coming of Gen. Buhari it had crashed to 1.5 per cent and Gen. Babangida then raised it to 3 per cent and thereafter it moved to 13 per cent.
With the increase of states from 12 to 36 by the military class, and the accumulation of the legislative list to the central government, the Nigerian states today have become so pauperised as appendages that they cannot even pay the salaries of their workers let alone their gratuities and pensions.
Therefore, the Nigerian Unitary system of administration which we have now is not only an illegal constitutional contraption, but also an unworkable political system and a harbinger of a perverse, chaotic, political and economic conundrum.
Under these unitary systems Nigerians are getting poorer and poorer. The issue of restructuring of Nigeria's political system is already partly documented in the 2014 Abuja Confab which has been endorsed by the federal executive council under former President Jonathan, and handed over to President Buhari.
Subscribe for latest Videos