In a major move to force  the Presidency to remove the Acting Chairman of the Economic and Financial Crimes Commission, Ibrahim Magu, from his post, the Senate is reportedly mulling a resolution asking Nigerians invited by the commission over graft-related issues to ignore such summons.
A source close to the National Assembly said last night that the lawmakers were upset that the Presidency had continued to ignore their open rejection of Magu for the EFCC's job and were out to prove a point that they could not be taken for granted by the Presidency for too long.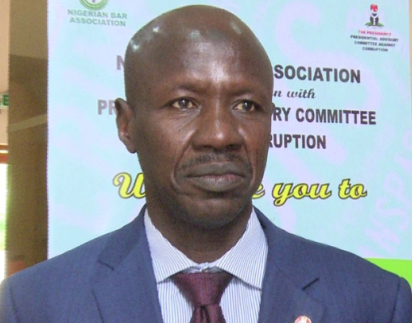 The source, who sought anonymity because of the sensitive nature of the matter, said the lawmakers viewed the continued stay of Magu at the EFCC as an affront on their power of confirmation.
The source said the resolution was one in the series of measures devised by the National Assembly leadership to force the Presidency to replace Magu with another nominee that would be acceptable to the lawmakers.
But while the development may appease those opposed to Magu, it was also learned from reliable sources in EFCC that the planned resolution might be an indirect method to prevent some powerful legislators from appearing before the commission to account for billions of Naira they are said to have diverted through 'budget padding.'
Padding is a process of inserting projects through the backdoor into the budget and the contract sum paid to firms selected by the lawmakers or those in which they have interest.