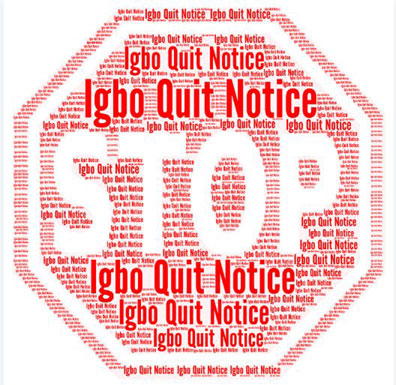 Emma Ujah, Abuja Bureau Chief
The Middle Belt Youth Council said, yesterday, that the Arewa Youth fora that issued quit notice to Igbo early this week were acting a script.
The organization said in a statement signed by its President, Mr. Emma Zopmal, that the affected Arewa youth and their sponsors must be arrested and charged for treason.
According to the group, the sponsors could also be part of frustrated corrupt people bent on destabilizing the President Muhammadu Buhari administration.
It distanced the Middle Belt from the quit notice and said that if indeed, Igbo were evicted from Arewa, the Middle Belt would welcome them.
The statement reads in part, "Following the unfortunate press statement issued by a coalition of Arewa Youth Fora threatening the Igbos to quit some parts of the north, it is obvious that the group acted the script of their mischievous sponsors who are bent on tarnishing and destabilizing the present administration because they have been blocked from their business as usual, of enriching themselves.
"We also consider it very unfortunate that Arewa House would grant permission for its premises to be used for a declaration of treason and antithesis to the Nigerian Constitution, which cannot be accepted by any civilized nation.
"Effectively, their statement amounts a declaration of war against fellow Nigerians, and so, they and their sponsors should be immediately arrested and prosecuted for treason.
"The Middle Belt region of Nigeria has no problem with the Igbos, and we believe it is the same with the other parts of Northern Nigeria. This is because Northerners are living in many parts of the South-East without molestation.
"In an event they decide to go away as a separate entity, Middle Belt is also ready to make an independent statement. God created everywhere and everyone and He gives it to whom He chooses and Middle Belt is a creation of God and not man.
" If the Arewa youths are sending away Igbos from their states, we in the Middle Belt are ready to offer them accommodation in our land.
"Southern Nigeria people should also know that 'Middle Belters' are a people with distinct culture, language, education, economy, and general lifestyle from the Hausa/Fulani.
"The Biafran struggle did not come as an accident but as a result of injustice and unfair treatment to regions, people or religion. Over the years, our federalism has been a fat lie that deprives political rights and freedom of some sections of the country while others benefit immensely from it.
"Middle Belt has been at the receiving end of this inequitable arrangement in which our people in Southern Kaduna, Southern Bauchi, Southern Borno, Southern Kebbi, Adamawa are under constant alienation and annihilation.
"Therefore, Middle Belt strongly stands for reconstruction of Nigeria not only restructuring. We'll join hands with Southern Nigerian people to actualize it. In view of this press statement, we want to urge Middle Belters to remain resolute in making sure we protect our future against the claims by the Hausa/Fulani."
E N D