By Yetunde Arebi
Hi, A few weeks back I published a story about Tolu, a young lady who accidently discovered that her husband is gay. And with whom other, than his childhood friend, business partner and best friend Bosun. In the aftermath of her discovery, more shocking revelations sprang up. Both Tunde and Bosun's families know about the relationship and even assumed that she knew before agreeing to marry him.
Bosun's wife, Aunty Jane is also in the know, though she would not readily admit it. Which is why their little kids are kept outside the country and she travels around as much as she wants, pretending that her marriage is a bed of roses. Now, everyone is telling Tolu to turn a blind eye to Tunde and Bosun's activities if she still wants to remain in her less than one year old marriage. While still trying to clear her head, Tolu has also discovered that she is pregnant with her first child and wants to keep it.
For now, she has moved back to her parent's home until she is able to chart a way forward for herself. I got a couple of mails in my box sharing different experiences with me on their stint with homosexuality. Unfortunately, many of them are young men and women still struggling to find a sexual identity for themselves. To protect them, I have removed the identities and contacts of those who admitted to have had homosexual sex for whatever reason. I have decided to publish these stories strictly for the purpose of awareness and to alert parents on the need to educate their male children about everything that sex and sexuality entails. Do have a wonderful weekend!!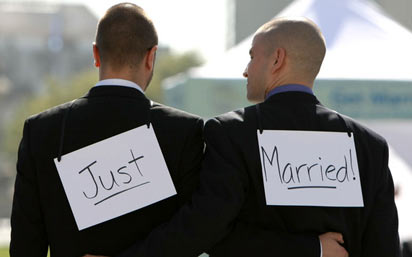 Dear Yetunde,
It is my pleasure to mail you. How is everything? Hope all is well. My name is (withheld). I am a boy of 22 years old. I decided to share my own story after reading about the lady who is married to a homosexual husband. I have a problem which I don't know how to solve because it has become a burden to me. When I was in secondary school, and we were about to take our WAEC Examinations, it became quite obvious to me that my parents would not have the money for the fees, at least, not at the time it mattered. Things had become very rough for my father financially and they were just managing to keep me in the school because it was too late for me to be transferred to a cheaper school. In fact, they were yet to complete payment for the school fees for that term. My mother had only been making promises to them. I became confused on the constant announcement for payment and began to wonder how and where to get the money. About three days to the final registration, our principal summoned all the out-going students to the Assembly Hall, where he gave us some words of encouragement.
Finally, he called my name and asked me why my parents had not paid for the exams. I was forced to tell him about our situation all over again. It was the most embarrassing experience for me as I was the only one who had not paid up. And to imagine that it was such an important examination! After narrating my family problems to him in the presence of everybody, he told me there was nothing he could do for me on such a matter but that he was giving us a grace of another two days to pay up, or else he would be returning the forms back to the Examination Board.
As soon as we were dismissed from the Assembly Hall, one of my classmates called me aside and told me he could help me    get the money. He then promised to give me the money, but only if I could do something for him. I was very happy when he said that he would give me the money, so I told him I was ready to do it. Then, when I asked him what it was I would be doing for him, I got the shock of my life. He told me that before he could give me the money, he would like to have sex with me. This is a male student like me, not a female. If he had been a female, I guess I would not have found it a problem at all. In fact, I would probably have felt honored to have been picked out to perform such a task. But a man like myself? It was a different ball game. I did not think I could do it, though I had been hearing about such things and how easy it was to make money from doing it. So, I told him I could not do such a thing and begged him to help me all the same, promising to pay him back whenever I got the money after the examinations. But he refused.
I had thought that he would have pity on me since he claimed, he had the money and knew of my situation, but he did not. And so, on the final day of submission of the forms, I was forced to go back to him. I begged for the money again, but he still did not budge, he was bent on having his way first, then giving me the money. That was how I decided to give in to his demand. We had to leave the school premises to his house, and immediately he finished doing the thing to me, he told me to do what he did to me, to him. I had no choice but to have sex in return. Afterwards, he gave me the money. I felt ashamed of myself and could not look him in the eyes. I was angry that my parents had caused everything that happened, because if they had been able to pay the examination fees, I would not have found myself in that situation. I began to get    worried if he was going to keep it a secret between us, or he would make jest of me by telling other students how I'd come up with the money for the fees and what he'd done to me. If he had, I doubt if I would have been able to go back to school again, not even for the all important examinations. But I thank God that he did not, at least until we left the school.
After that day, another problem started for me. It seemed as if everything died in me that very day. Until that encounter with the boy, I had never    slept with a girl, not to talk of a boy. I was a virgin, and it pained me so much that I lost my virginity in that way. Again it has affected my relationship with people, especially with boys. Since I cannot tell who is who just by appearance, I now find it difficult to be friendly with them. What this means is that, now I don't have any friend at all. The same applies to female friends as well. I have lost all emotions and interest where friends and relationships are concerned.
Yetunde, I just want to tell everybody that homosexuality is real in our society and many people are doing it. Forget all they are talking about on social media and newspapers which only attract hatred towards them. I am sad that I was forced to take part in it because of my situation and not because I enjoyed it. Now I am afraid and suspicious of anyone who wants to get close to me, including. At my age and though I am in a higher institution, I have never had sex with a girl.
Dear Yetunde,
I just want to thank you for the help you give to our youths and even the adult on these marital problems. I must confess I've been following Vanguard for more than 10 years now, and even the Saturday love stories. I am most touched because I once found myself in that situation. It was a day I needed money for my final year project. I schooled here in Lagos and I studied marine engineering. As a matter of fact, I was the president of my department.
One night, a guy walked up to me and plainly asked for sex. This is a guy for God's sake. I really needed money and he offered a hundred dollars. But thank God for my faith as I was able to sit him down, talked to him and told him that God created Adam and Eve not Adam and Steve, so also, not Ada and Eve. But yet, he was still begging, so I just walked out on him and asked him never to come back to the school campus again since he was not a student. But about 10 minutes later, I saw him talking to one of the Jambites. I had to call some students and we beat him up, took the money from him and drove him out. It is the love for money that makes it rampant in the country.    There are many of them on our campuses and the bold ones are no longer hiding it. Most guys who are into it can easily be identified too. I think parents have a lot of work to do in raising their children.
Hello Yetunde
I am not surprised to hear such a story. I was a victim to this addiction, but I was in primary school at that time and I was not matured. It was introduced to me by one of my cousins which is about 25 years ago. It became part and parcel of me even when I gained admission into a higher institution. Although, it still troubles me at times, but I thank God that today, I am able to love girls. I am currently in a relationship and believing it will work out. I feel so sorry for your friend's niece. It must have been a very shocking experience for her. Unfortunately, I doubt if her anger will make him stop. He needs to make that decision by himself and no one else. Another thing that will make it difficult for him is his partner. Since    they are together all the time, working together, and they have common friends and even their families are aware of their activities, it will be difficult.