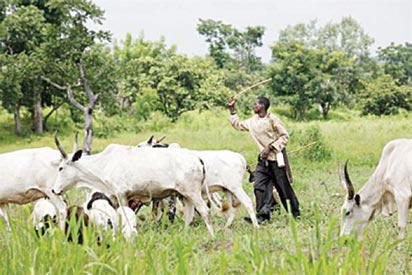 Herdsmen with their cattle
By Henry Umoru
ABUJA— THE Senate, yesterday, highlighted the need to deal decisively with herdsmen attacks across the country, describing the phenomenon as another form of Boko Haram.
The Upper legislative chamber, which noted that the modus operandi of the herdsmen was not different from that of Boko Haram, also charged security agencies to put a check on the attacks, apprehend the  culprits and bring them to justice.
This is the second time in a week that the Senate would take a strong position on the issue, having, last week, directed the Inspector General of Police to go after the herdsmen.
It also observed a minute silence for those who lost their lives to herdsmen attacks in Edo Central senatorial district and other previous attacks in the country, even as it asked the Federal Government to take up immediately the health needs of Ehimen Donald Abuya, who was attacked by the herdsmen in the latest attacks.
The Senate equally urged the National Emergency Management Agency, NEMA, to urgently visit Ewu communities to ascertain the extent of damage done by the herdsmen, with a view to providing relief materials to families of the bereaved and other persons currently displaced and denied access to their farmlands.
The resolutions of the Senate were sequel to a motion by Senator Clifford Ordia, PDP, Edo Central, entitled, "the need to curtail the activities of herdsmen."
According to the Senate, the herdsmen engage in violent acts of ravaging communities, depriving persons of right to life and prosperity, defiling women and destroying farm crops, among other criminal activities, across the country.
In his presentation, Senator Ordia said:  "The Senate notes with serious concern the heinous and criminal activities being perpetrated by herdsmen who, in the violent act of ravaging communities, deprived persons of right to life and prosperity, defiling women and destroying farm crops amongst other criminal activities across the country.
"The Senate is sad that on May 22, 2017, these ravaging herdsmen entered into farmland located in Ewu community, Esan Central Local Government of Edo State, raping two women, Mrs. Martina Emoyon and Mrs. Ariu and strangled them to death, destroyed crops and sacked a lot of persons from their farmlands.
"It observes that consequent upon these criminal activities of the herdsmen, the youths of Ewu engaged in a peaceful protest to draw the attention of the Federal Government to the problem. Sadly, one Ehimen Donald Abuya was shot and the victim is lying critically ill at Irrua Specialist Hospital. Since this destructive attack, it has been observed that no farmer in the communities has engaged in farming activities for fear of being killed.
"The Senate is saddened that despite the public outcry and previous resolutions of the National Assembly as regards the criminal activities of herdsmen, there seems to be no visible action on the part of government to curtail, abate or totally stop the criminal activities of these criminal elements.
"Section 33(1) of chapter (iv) of the Constitution of the Federal Republic of Nigeria 1999 (as amended) provides that every person has a right to life and no one shall be deprived intentionally of his life, save in the execution of a court sentence in respect of criminal offence of which he has been found guilty in Nigeria.
''The Africa Chapter on Human and Peoples Right of which Nigeria is a signatory, also provides for Right to Life and Respect for Integrity of Persons, Freedom from Slavery, Torture, Cruel, Inhuman and Degrading treatment.
''Section 43 of the constitution provides that every citizen shall have a right to acquire and own immovable property anywhere in Nigeria.
''The Senate is aware further that the 1999 Constitution of the Federal Republic of Nigeria 1999 (as amended) in section 14(b) clearly provides that the security and welfare of the people shall be the primary purpose of government."
In his contribution, Deputy Senate Whip, Senator Francis Alimikhena, APC, Edo North, who described the herdsmen as another Boko Haram, however, called on the executive to urgently curb the menace, adding that security agencies must apprehend and bring to justice those involved in the menace at Ewu, Edo State.
In his remarks, Senate President, Bukola Saraki, who presided over yesterday's plenary, however, stopped other contributions and asked that the Senate should wait for the report of the Senator Kabir Gaya-led Senate Ad- hoc Committee on farmers and herders clashes in Southern Kaduna and other parts of the country.
It would be recalled that hundreds of farmers have been killed by herdsmen since 2015, with the killing spanning all geo-political zones of the country.  The attacks have been particularly vicious in Benue where no fewer than 500 persons have been killed by the herdsmen in the last two years.
Similarly, in Southern Kaduna, the government said 205 persons were killed by the herdsmen, though the Catholic Church in the area claimed 808. Taraba State government only recently raised an alarm that fleeing Boko Haram insurgents displaced by the military from Sambisa forest invaded the state, blaming the latest herdsmen killing in the state on the invasion.
Timeline of major herdsmen attacks
By Clifford Ndujihe
In 2014, the Global Terrorism Index ranked herdsmen as the fourth deadliest terrorist group in the world after Boko Haram, ISIS and Al-Shabab.
The National Emergency Management Agency, NEMA said clashes between herdsmen and farmers/locals in Southern Kaduna claimed no fewer than 204 people between October 2016 and January 2017. Musa Ilella, NEMA North West zonal Coordinator, said the figure was for two Local Government Areas, namely Kafanchan and Chikun LGAs. "Four districts in Kafanchan LGA namely: Linte, Goska, Dangoma and Kafanchan town recorded 194 deaths. Chikun LGA on the other hand recorded about 10 deaths, making a total of 204 so far," he said.
Senate's yesterday's position is similar to the one it took on April 28, 2016 when it summoned the Chief of Defence Staff, General Abayomi Olonisakin and other service chiefs to brief the lawmakers on the efforts put in place to address the herdmen problem.
The April 2016 resolution was sequel to a motion by Senator Chukwuka Utazi, PDP, Enugu North on the gory massacre of the people of Ukpabi Nimbo community in Uzo-Uwani local council of Enugu State.
While moving the motion, Senator Utazi, citing reports, said the herdsmen killed 80 people in 2013
and by the end of 2014, the death toll had risen to 1,229 people.
Attacks in 2016, 2017
Recounting the attacks in 2016, he said in the first week of January, between 12 and 38 people were killed in Udeni Ruwa, in Nasarawa State and 45 were killed in Agatu, Benue State.
January 17, 2016: Three people were killed in Gareji village in Taraba State.
January 23, 2016: Between 30 and 60 people including a police DPO were killed in Demsare, Wunamokoh, Dikajam and Taboungo, of Adamawa State.
February 2, 2016: Seven people were killed in yet another early morning attack in Agatu, Benue State.
February 7, 2016: 10 people were killed in Tom Anyiin. Four days later on February 11, two people were killed in Abbi, Enugu State and some declared missing.
February 24, 2016: Between 300 and 500 Nigerians were killed in Agatu, Benue State and on February 28, 2016:  Nine people were killed in Agatu.
March 2, 2016: Residents of Ossissa, in Ndokwa, Delta State fled their homes following attacks by herdsmen.
March 7, 2016: Eight people were killed and the next day, 12 were killed in Mbaya-Tombo, both in Benue. There were more deaths on March 13, 2016; then 15 more on March 17.
March 26, 2016: 76 residents of Ugwunesi in Awgu LGA in Enugu State were arrested and detained by soldiers for holding a meeting to discuss the problem of herdsmen attacks in their area. April 3-7, 2016: Between April 3 and 4 about 7 and 16 people were killed in Ohali-Elu, in Rivers State.
April 9, 2016: In Ilado, Ondo State, Olu Falae, former SGF, was attacked and a security guard was killed.
April 10, 2016: Between 15 and 44 were killed in Angai, Dashole, Dori and Mesuwa villages, all in Taraba State.
April 18, 2016: There was news that another 18 people had been killed in Moor.
April 20, 2016: Soldiers were attacked in Agatu, Benue, and a policeman was declared missing
April 25, 2016: Herdsmen attacked Nimbo Community of Uzo-Uwani LGA in Enugu and killed no fewer than 46 persons.
November 25, 2016: Dungun Mu'azu community in Sabuwa Local Government Area of Katsina State was thrown into crisis as armed herdsmen cut down seven men and one woman in a nocturnal reprisal attack.
January 4, 2017: Five indigenes of Abraka and Obiarukwu both in Ethiope East and Ukwani local government areas of Delta State, were reportedly killed during a clash between farmers and suspected  herdsmen along the boundary of the neighbouring communities.
January 8, 2017:  Five Mobile Policemen and two civilians died in an attack by suspected herdsmen in Demsa Local Government Area of Adamawa State.
The Mobile policemen were deployed to Kwayina, Gideon Dadi and Kurlai communities after clashes by residents with armed herdsmen that left more than 40 persons dead.
Apart from the policemen, two other bodies were recovered after the attacks.
January 9, 2017: No fewer than five persons were hacked to death by suspected herdsmen in two separate attacks in Abraka and Obiaruku, both in Ethiope East and Ukwuani Local Government Area of Delta State
January 15, 2017: Nine people including a Police Inspector and a Superintendent of the Nigeria Security and Civil Defense Corp (NSCDC) were killed by herdsmen in Rafin Gona and BCC Gbagyi villages in Bosso local government area of Niger State.
January 17, 2017: Three persons were killed and five injured when herdsmen opened fire in Samaru Kataf market in Zango-Kataf Local Council of Kaduna State.
January 24, 2017: 15 persons were killed by rampaging Fulani herdsmen, who attacked farmers in Ipiga village in Ohimini Local Government Area of Benue State.
Some armed herdsmen stormed the neighbouring Ajegbe village, where they grazed their cattle and destroyed farmlands. From there they moved into Ipiga village, shooting sporadically, though they met a stiff resistance from the locals. A bloody fight erupted and two of the herdsmen were reportedly killed, while about 13 of the villagers were also killed.
January 24, 2017: Five students of the College of Education, Gidan Waya, Jema'a Local Government Area, Kaduna State, were reportedly shot dead close to Gidan Waya, when a commercial car taking them to school from Kafanchan was waylaid by herdsmen.
February 10, 2017: Eight people were confirmed dead in Zamfara State, following a clash between community members and suspected herdsmen in Rukumawa Tsafe Local Government Area.
February 21, 2017: Fulani herdsmen launched attacks on four communities in Southern Kaduna killing no less than 21 people.
March 1, 2017: Three persons were killed in clashes involving indigenes and suspected herdsmen in some communities of Delta and Rivers states.
March 2, 2017: No fewer than 10 persons were killed in a renewed hostilities between herdsmen and farmers in Mbahimin community, Gwer East Local Government Area of Benue State.
March 6, 2017: Two persons died in a clash between suspected herdsmen and residents of Omumu community in Ika South Local Council of Delta State.
March 11, 2017: Seven people were killed when herdsmen attacked a Tiv community, Mkgovur village in Buruku local government area of Benue State.
March 14, 2017: One person was killed and several others injured when herdsmen and the people of Umuobasikwu, Ozuitem community in Bende local government area of Abia State clashed.
March 28, 2017: Three persons were feared killed while six others sustained injuries as a group suspected to be herdsmen attacked Emuhu community in Ika South local council of Delta State.
May 8: Three persons were confirmed killed by herdsmen in Tse-Akaa village, Ugondo Mbamar District of Logo Local Government Area of Benue State.
May 10, 2017: The Delta Police command confirmed that an inspector was killed and three other policemen injured by suspected herdsmen in Abraka, Ethiope East LGA of the state.
May 12, 2017: Suspected herdsmen beheaded a commercial motorcycle rider identified as Udoka Ossai and six farmers who are indigenes of Ossissa community in Ndokwa East Local Government Area of Delta State.
May 13, 2017: Less than one week after many people were killed by herdsmen in three communities of Logo Local Government Area of Benue State, aremed herders struck again on May 13 killing eight more people.
May 18, 2017: Two persons lost their lives after suspected herdsmen attack in Afam Uku, in Oyigbo Local Government Area of Rivers State.