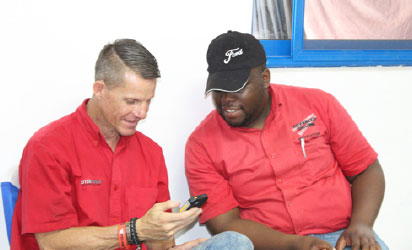 Derek Kirkby, Training Director DSFL (left) strategising with Motebang Mokoena, a colleague, during the Ford training in Lagos, yesterday.
By Theodore Opara
FORD Motor Company, in conjunction with its distributor, Coscharis Motors, has brought back its Driving Skills for Life (DSFL) programme to Nigeria.
This highly-acclaimed programme was implemented for the first time in Nigeria in 2016 in order to improve driving skills and road safety in Nigeria.
This year the focus was on a special training session for members of the Nigeria Auto Journalists' Association (NAJA). The DSFL programme included driving on a 4×4 trail requiring the use of four-wheel drive, as well as a special presentation on child safety in the car.
Participants got the opportunity to learn about the features that the Ford Ranger offers such as safety, departure angles, brake distance on gravel and anti-lock braking system (ABS) and how to use other four-wheel drive functions such as traction control, locking differential and drive train.
Drinking and driving was also under the spotlight again, with the use of the drunk-driving goggles. These goggles imitate a drunk driver and simulate how alcohol actually impairs driving skills.  The DSFL training was done by Derek Kirkby and Motebang Mokoena from South Africa.
NAJA, the umbrella body for all journalists in Nigeria covering the automobile and automotive industry, is already setting a good example by insisting that its members undergo annual training and Ford's DSFL is part of this programme. This initiative has already been highly praised by the Nigerian Automobile Manufacturers' Association (NAMA).
It would be recalled the Federal Road Safety Commission (FRSC) said that 80 per cent of road accidents in the country are due to human factors such as speeding, dangerous overtaking and overloading.
"Against this background, Ford is very pleased to be able to offer its proven road safety tool in the form of the Driving Skills for Life programme," commented Abiona Babarinde, General Manager, Marketing and Corporate Communications, at Ford's distributor, Coscharis Motors.
Ford launched DSFL in the United States in 2003 and the programme has been improved and adapted to suit local conditions in many other global markets over the years. It was launched in South Africa in 2014, introduced into Angola in 2015 and last year it was rolled out in Nigeria, Uganda, and Kenya.
Ford DSFL, is a comprehensive programme aimed at providing new skills and information to newly licensed drivers and improve the defensive driving ability of experienced drivers. The programme also addresses both the inexperience of young drivers as well as issues surrounding distracted driving, thereby, enhancing eco-driving to personal safety and the environment.