By Yinka Kolawole
LAGOS—The National Bureau of Statistics, NBS, reported, yesterday, that annual inflation rate dropped by 0.99 per cent to 16.25 per cent in May 2017 from 17.24 per cent recorded in April.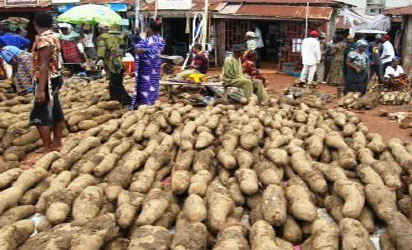 This represents the fourth consecutive decline in the rate of inflation since January 2017.
NBS, however, added that inflation increased month-on-month by 1.88 per cent, compared to 1.60 per cent in April, the highest monthly increase since May 2016.
The sustained decline in annual headline inflation followed slower year-on-year increases in core inflation and food inflation to 13.0 per cent in May (from 14.8 per cent in April) and 19.27 per cent in May (from 19.30 per cent in April).
The report shows that pressure points still exist despite the general slowdown in inflation on year-on-year terms, stemming from higher agro commodity prices as a result of higher global food prices, increasing exports.
The NBS report showed that food inflation is largely responsible for the rising month-on-month inflation. Food inflation moderated only slightly to 19.27 per cent year-on-year (as against April, 19.30 per cent) and inched up significantly in month-on-month terms to 2.54 percent (April: 2.04 percent).
Imported food inflation inched up significantly on month-on-month terms to 1.34 per cent from 0.85 percent in April. NBS further noted that core inflation continues to decelerate sharply, at 13.00 percent year-on-year in May compared to 14.80 percent in April, although on a month-on-month basis it increased marginally to 1.17 percent from 1.10 percent in April.
According to NBS, the average prices paid by consumers for diesel decreased by 5.65 percent month-on-month, while the average fare paid by commuters for intra and inter-city bus journey decreased by 2.72 per cent month-on-month and 1.39 percent respectively.
Expectation
Analysts at WSTC Financial Services Limited, said: "The downward trend in the general price level has further reinforced our outlook on inflation in the current year.
"However, the month-on-month surge in the food sub-index is indicative of existing inflationary pressure on food prices, and signals a possible downside risk to inflation in the months ahead.
"Additionally, we believe the Central Bank of Nigeria's, CBN, inflation target of 10 -11 per cent at the end of 2017, is largely optimistic, particularly considering mounting pressure on food inflation.
"We note that such a target implies an assumption of no adjustment in the official exchange rate of N305/$ and the retention of the price of PMS at the current level in H2 2017."