…It's another blackmail —Defence spokesman
By Kingsley Omonobi, Abuja, with agency reports
Maiduguri— Some victims of the conflict in the North-East have accused soldiers and members of the civilian Joint Task Force, JTF, of raping women and girls in internally displaced persons, IDPs, camps and a hospital in Borno State.
The victims in a petition sent under the Knifar Movement, a body advocating the rights of displaced persons, called on the National Assembly to come to their rescue.
But the military authorities in a swift reaction, yesterday, dismissed allegations as another blackmail against soldiers assigned to ensure order and safety in IDPs camps.
The victims said the alleged harassment had continued unabated since 2015 when they were displaced from their homes as a result of the insurgency in the region.
They also alleged that 466 of them have died in Bama Hospital camp, while 279 others in the area are being detained in military barracks and Maiduguri maximum prison "for offences they did not commit."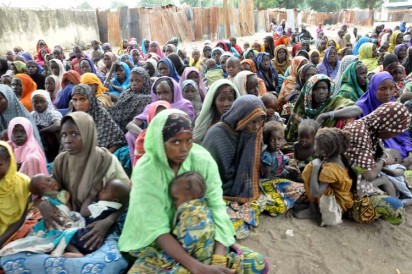 The victims demanded the release of their people in "illegal detention."
"First, we sold our jewellery to them to get food. Then we sold our clothes. When we didn't have anything left, they asked for sex. Young women were forced to date the civilian JTF members and soldiers to feed their children," the petition read.
"Most of us arrived in Bama Hospital camp by the end of 2015 and early 2016. We were initially only given food once in a day, just maize flower. There was not enough water either. If you wanted more food, you had to pay the civilian JTF and soldiers who guarded the camp.
"If they would hand out extra food, the women had to pay by giving them sex. Sexual violence and rape by the civilian JTF and soldiers were rampant.
"Even after we moved to Maiduguri, some of our women and girls are still being harrassed by the civilian JTF and soldiers. We also continue to hear from our people back in Bama hospital and Banki camp that the sexual abuse continues."
It's another orchestrated blackmail—Defence spokesman
Meanwhile, Director of Defence Information, Major General John Enenche, told Vanguard in a telephone chat, yesterday, that the Army or the military had no direct access to the IDPs or administration of the camps, saying that aspect was being handled by the civil authorities.
According to Enenche: "The military only provides security for the camps from attacks by Boko Haram or attacks from hoodlums. This is done outside the perimeter fencing. So there is no way any soldier can be inside the camp soliciting for sex. It is another orchestrated blackmail.
Subscribe for latest Videos