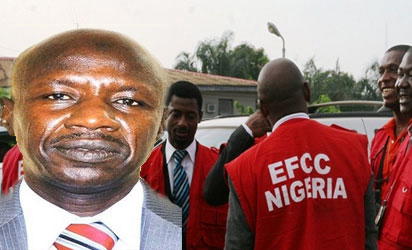 Ibrahim Magu
…Why we parade suspects before conviction—Police
By Victoria Ojeme
ABUJA— The Economic and Financial Crimes Commission, EFCC, has secured 340 convictions for various offences and recovered billions of dollars stolen funds within the last six months.
EFCC Acting Chairman, Ibrahim Magu, disclosed this at the project launch on law enforcement and public engagement in Nigeria organised in Abuja, yesterday, by the CLEEN Foundation, in collaboration with the International Narcotics and Law Enforcement Affairs Office o
f US Embassy.
Magu, who was represented by the commission's Secretary, Mr Emmanuel Adegboyega, did not, however, mention the volume of money recovered during the period.
He refuted claims that the commission had recorded only a few number of convictions in its operations, stressing that it recorded more convictions than any other anti-graft or sisters agencies in the country.
He also noted that the successes recorded depended on the court, especially as the commission had no control over the activities of the court.
He called for synergy among anti-graft agencies, adding that "if there is no synergy among the anti-graft agencies, little or no success can be achieved."
Why we parade suspects  before conviction—Police
The Deputy Inspector General of Police, Operations, Joshak Habilla, explained why Police always parade suspects before conviction. He said the measure to establish that arrest had been made over a case and to calm down tension.
"Why we always parade suspects is to show that investigation is ongoing. It has effect letting public know that arrest had been made over an incident," he said.
Executive Director, CLEEN Foundation, Benson Olugbuo, stressed the need to enhance public confidence in the criminal justice actors such as police and EFCC.
He advocated a system with zero tolerance for corruption and the need for Nigeria's law enforcement institutions to get involved in open communication.
In his remarks, US Embassy Representative, Aruna Amirthanayagam, said the goal of the project was to strengthen relations among criminal justice actors, anti-graft agencies, and citizens through improved and effective communications.
"This pilot project will focus on supporting the EFCC and the Nigeria Police Force to provide timely and relevant information to the public on their efforts to fight crime and corruption.
"Over the past year, the U.S. Embassy has been working closely with civil society, the Nigeria Police Force and the EFCC on various initiatives to enhance government transparency, improve security, and investigate and prosecute complex financial crimes.
"This project supports those efforts by enhancing communication with the public and building trust with law enforcement organisations," he said.