By Nwafor Sunday
Since Nigeria have an acting president, the Minister of information, Mr. Lia Mohammed, said 'I don't have to speak to Muhammadu Buhari' who is on medical vacation since 7th of May 2017.
He made this known in a chat with the Channels television on 'Politics Today' anchored by Mr. Seun Okinbaloye, while speaking on the likely day Buhari will come back from his medical trip.
Mr. Seun who reminded Lai Mohammed his duty as the Information Minister was replied by the Minister "I don't have to speak to him since we have an acting president". Without being specific on the likely arrival of Mr president to Nigeria Lai Mohammed said "The president made it clear when he was living, that the length of his stay will be determined by his doctors.
"The most authentic news we have so far is the one from the wife of Mr. president, Aisha Buhari who came back and said that Mr. president is recovering very fast. I think that is the best I can say for now, he said.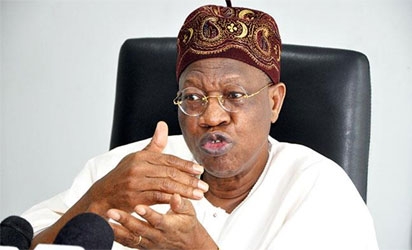 Speaking on the viral negative speeches  and  skepticism of people over Aisha Buhari not being able to see her husband when she traveled to London, Lai Mohammed said, "I have no reason to doubt what the wife of the president said. "She said I saw my husband and he is doing very well, so I have no reason to doubt her," he firmly said.
Recall that governor Yahaya Bello of Kogi State yesterday led eminent people of the country to pray for quick recovery of President Mohammadu Buhari, who is on medical vacation in London. The governor at the prayer said the President would soon return to the country to continue the good work of redirecting the course of the country.
The prayer which was held during the jumat prayer observed at the Government House mosque, Lokoja, was attended by a former governor of Kano state, Senator Kabiru Gaya.
The governor said "President Muhammadu Buhari is the man the world see when they look at Nigeria. He is Africa's number one anti-corruption crusader whose integrity has helped rebound the nation's global respectability.
Just watch the rest of the interview bellow: