By Udeme Clement
…Ogun Command expands operations to creeks at Idiroko border
In the last two years of CGC Hameed Ali's leadership, Ogun Customs Command, despite being the most volatile and vulnerable to incessant attacks by smugglers at the border between Nigeria and Republic of Benin, recorded tremendous achievements in anti-smuggling drive. The Command also recorded the highest seizures of motor-cycles popularly known as (Okada), used by smugglers at the border to convey prohibited items, especially rice. Within this period, the Command seized over 4,000 motor-cycles from the border area. At present, motor-cycles seizure occupied a large space at the premises of Ogun Command, around Idiroko axis.
Aside from Okada smuggling, other uncommon trend of illicit trades uncovered by the Command include smuggling through the forest, the used of oil tankers meant for conveyance of  petroleum products in smuggling rice and the used of vehicles padded with extra-iron carriers underneath to carry rice at night across the border.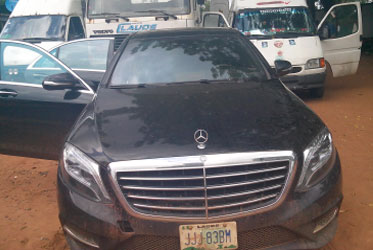 Most recently, under the supervision of Comptroller Sani Madugu, the Command averted what would have caused  a major health tragedy to the border communities in Ogun |State, with timely interception of mini-trucks loaded with expired fish smuggled into the country through Idiroko border.  Madugu also uncovered the latest technique of smuggling with locally  constructed boats through the creeks. As such, he has expanded their operations to the creeks of Idiroko to tackle these nefarious activities.  "We have uncovered a new trend of smuggling prohibited items into the country through the creeks at Idiroko border. So, we have expanded our search to the creeks, in order to protect our economy from saboteurs.  Now, we are running 24 hours patrols in the Command. There is no weekend for officers in Ogun, because we are working even on Saturdays and Sundays", he said.
Sunday Vanguard during a visit to Idiroko gathered that the Command has stepped up patrol surveillance within the border communities, even as officers are strategically positioned at the creeks to check smugglers using small boats to bring in contra-band items through the back doors.
On what his Command is doing to sensitise residents of the border communities about the dangers of smuggling, he explained, "We believe in dialogue and have been discussing with traditional rulers on the economic implications of smuggling. "Let me use this opportunity to reiterate my appeal to the traditional rulers in the area to caution their wards on the ills of smuggling.  We are ready to partner with all stakeholders and law abiding citizens in our resolve to facilitate legitimate trade and maximum revenue generation for the betterment of our economy".
Subscribe for latest Videos