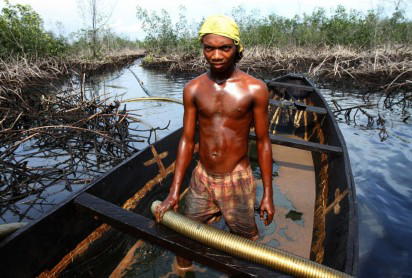 …Ogoni land alone to cost $6 billion
…Clean-up to last over 50 yrs
… Requires technologies, experts, volunteers
By Udeme Akpan, Ediri Ejoh, Prince Okafor
There are strong indications that the cleanup of over 2,500 contaminated sites in Nigeria's oil producing areas would cost the federal government and other stakeholders over $50 billion.
A breakdown showed that it would cost $6 billion to cleanup Ogoniland alone while other parts of the Niger Delta would gulp about $44 billion.
The exercise, it was gathered would take more than 50 years to execute through massive deployment of suitable technologies, experts and volunteers.
The Distinguished Professor Hilary Inyang who has completed a scientific study of the areas disclosed in an exclusive interview that, "A deep analysis should show that it would cost more than US$50 billion to clean up more than 2500 sites in the entire Niger Delta, even with the recognition that there have been more spills than spill sites.
"It would also take more than 50 years, even if that money was available. My back-of-the-envelope estimate is that for Ogoniland sites alone, about US$6 billion are needed but risks can be reduced to tolerable levels with US$3 billion.
"So, it is quite untenable to attempt clean-up/remediation of all contaminated sites there. Technically, it is impossible to clean up all the sites in Niger Delta. A screening system that combines cost, ecological, proximal population and other rational factors should be quickly developed for use in selecting about 100-150 sites for focus.
"From my review of circumstances at some sites, about 30 percent of the sites will simply need to be evacuated because of the risk of cumulative exposure to contaminants. Evacuation happens in other parts of the world under such circumstances. Examples are Chernobyl, and heavy metal contaminated areas in Southeast Asia. It is exceeding romantic to think that one will always occupy his/her native environment. That has not been the case throughout human history," he added.
 Major environmental challenges
Inyang said that there are very many environmental problems in the oil and gas-producing areas of Nigeria, especially oil spills, including groundwater pollution, surface water pollution and damage to aquatic and shallow marine life; acid rain and air quality degradation due to gas flaring; and biodiversity loss.
According to him, environmental pollution is a contributor to the low life expectancy of about 54.6 years estimated for all parts of Nigeria.
He stated that ''the conditions are worse in some areas of the Niger Delta because of the large number of both legacy oil pollution sites and more recent oil spills which my assessments put at about 2900 in 2010 when I spent two years in Nigeria on the issue.''
Investigations showed that not much effort has been made to effect the cleanup of Ogoniland, and indeed other parts of the region despite the commitment expressed by the President Mohammadu Buhari-led administration.
The Environmental Rights Action/Friends of the Earth Nigeria, ERA/FoEN, disclosed that several months after the government launched the clean-up of Ogoniland, actual work has not yet started in the area.
Godwin Ojo, Executive Director of ERA/FoEN, said almost six years after the UNEP report, "not a drop of oil" has been cleaned in Ogoniland.
 Shell and Ogoniland
Meanwhile, Shell Petroleum Development Company of Nigeria Limited (SPDC), operator of the SPDC Joint Venture that operated in Ogoniland from the 1950s to the early 1990s, indicated in its latest report that most of UNEP's recommendations, including the creation of an environmental restoration fund, were directed at the Federal Government of Nigeria and required it to take the lead in coordinating the activities of the numerous stakeholders involved.
The company disclosed that SPDC welcomed the UNEP Report and remains committed to its implementation under the leadership and coordination of the Federal Government.
The report also contained a number of findings and recommendations relating, specifically, to SPDC as operator of the SPDC JV.
Consequently, the company indicated that over the last five years, SPDC has taken action on all the UNEP recommendations addressed specifically to it as operator of the SPDC JV and has completed a majority of these recommendations.
It indicated that the 15 SPDC JV sites specifically mentioned in the UNEP report have been reassessed, and where further remediation was required, those sites have been remediated and certified by government regulators.
The company stated that it has completed an inventory and physical verification of assets for decommissioning and continues to work with its joint venture partners and the Federal Government of Nigeria to develop a decommissioning plan for these assets.
SPDC pointed out that it has completed a comprehensive review of its oil spill response and remediation techniques, and made a number of improvements in line with industry best practices.
The company noted that the SPDC JV has also shown leadership by delivering the emergency measures identified by the report related to providing safe drinking water to impacted communities in collaboration with Rivers State Government.
It disclosed that contractors have been re-trained on clean-up and remediation techniques and SPDC has assigned specialist supervisors to a number of project sites to ensure effective oversight and compliance.
The company stated that SPDC continues to carry out regular aerial monitoring of all the joint venture's facilities in Ogoniland, including the creeks and pipelines, to identify any new incidents or activities such as theft and sabotage, which may result in environmental damage.
It disclosed that accelerating implementation of the UNEP Report recommendations was identified as a priority by the Buhari administration in 2015.
The report stated that SPDC remains fully committed to supporting and contributing its share to the ORF once the appropriate framework and governance structures are fully established by the Federal Government of Nigeria, adding that the inauguration of the Governing Council and Board of Trustees is a key step in this direction.
The report stated that the memorandum of understanding, MoU, provided for the selection of two contractors to conduct the clean-up and to be overseen by an independent project director.
It indicated that international contractors for the first phase of the clean-up were mobilised to the location in September 2015, and they trained 400 Bodo youths on clean-up techniques.
It however, stated: "The contractors were subsequently denied access by the community in late September 2015. In 2016, discussions continued with the Bodo community under the Bodo Mediation Initiative (BMI) to allow contractors to proceed with the clean-up but remained unresolved as of the end of 2016. SPDC remains fully committed to the clean-up of identified areas of Bodo when access is granted. Crude oil theft and illegal refining continue to be a challenge in Ogoniland with visible evidence of repeated re-contamination of remediated sites. The SPDC JV is therefore pursuing a range of initiatives to prevent and minimise the impact of theft and sabotage in Ogoniland, including community-based pipeline surveillance, awareness campaigns and alternative livelihood programmes.
The report added: "In 2014, the SPDC JV signed a series of agreements with communities in Ogoniland using the Global Memorandum of Understanding (GMoU) model. Under these GMoUs, the SPDC JV provides funding to support unarmed community patrols which report incursions and suspicious activity directly to the government security forces. SPDC has reached nearly 150 communities in Ogoniland since it embarked on an engagement campaign in 2014 to raise awareness on the environmental devastation from pipeline vandalism and illegal crude oil refining in response to the recommendations of the UNEP Report on Ogoniland.
"The programme involves open-air meetings and publicity campaigns on electronic media. In 2016, SPDC collaborated with local community leaders, traditional rulers and state governments in the Niger Delta to raise awareness among youths of the environmental and health risks of interfering with pipelines. During the course of the year, engagements took place in Ogoniland with more than 40 communities in four local government areas – Khana, Gokana, Tai and Eleme. Shell's flagship youth entrepreneurship programme, Shell LiveWIRE, was extended to Ogoniland in 2014, with the aim of raising living standards and reducing crude oil theft through the promotion of alternative livelihoods.
"The pioneer set of 105 beneficiaries graduated in February 2015, and more than 70% of them are now successful business owners and employers of labour. As was the case in 2015, 60 Ogoni youths were trained in entrepreneurship skills in 2016. Fifty of the trainees who succeeded in the final assessment received start-up funds for their business ideas. An Agricultural Youth Entrepreneurial Programme was also initiated in 2015 to increase youth participation in farming, the primary occupation in Ogoniland with associated economic growth," it added.
UNEP report
The United Nations Environment Programme, UNEP had stated in its own report that Ogoniland has a tragic history of pollution from oil spills and oil well fires, although no systematic scientific information has been available about the ensuing contamination.
It had disclosed that with this independent study, conducted at the request of the Federal Government of Nigeria, the United Nations Environment Programme (UNEP) reveals the nature and extent of oil contamination in Ogoniland.
UNEP had indicated that the Environmental Assessment of Ogoniland covers contaminated land, groundwater, surface water, sediment, vegetation, air pollution, public health, industry practices and institutional issues.
UNEP stated: "This report represents the best available understanding of what has happened to the environment of Ogoniland – and the corresponding implications for affected populations – and provides clear operational guidance as to how that legacy can be addressed. Involving desk review, fieldwork and laboratory analysis, the two year study of the environmental and public health impacts of oil contamination in Ogoniland is one of the most complex on-the ground assessments ever undertaken by UNEP.
"UNEP recruited a team of international experts in disciplines such as contaminated land, water, forestry and public health, who worked under the guidance of senior UNEP managers. This team worked side-by-side with local experts, academics and support teams comprised of logistics, community liaison and security staff. The UNEP project team surveyed 122 kms of pipeline rights of way and visited all oil spill sites, oil wells and other oil-related facilities in Ogoniland, including decommissioned and abandoned facilities, that were known and accessible to UNEP during the fieldwork period, based on information provided by the Government regulators, Shell Petroleum Development Company (Nigeria) Ltd (SPDC) and community members in and around Ogoniland. Public meetings staged throughout Ogoniland during each phase of the study helped to build understanding of UNEP's project and to foster community participation.
"During aerial reconnaissance missions, UNEP experts observed oil pollution which was not readily visible from the ground, including artisanal refining sites. Information provided by Ogoniland residents about oil contamination in their communities supplemented official oil spill data supplied by the Nigerian Government and SPDC. Following its initial investigations, UNEP identified 69 sites for detailed soil and groundwater investigations. In addition, samples of community drinking water, sediments from creeks, surface water, rainwater, fish and air were collected throughout Ogoniland and in several neighbouring areas. Altogether more than 4,000 samples were analyzed, including water drawn from 142 groundwater monitoring wells drilled specifically for the study, and soil extracted from 780 boreholes
"The UNEP project team also examined more than 5,000 medical records and staged 264 formal community meetings in Ogoniland attended by over 23,000 people. The samples were collected following internationally accepted sample management procedures and dispatched for analysis to accredited (ISO 17025) laboratories in Europe. The analyses examined in the study included certain groups of hydrocarbons that are known to have adverse impacts and which are therefore dealt with selectively in oil-spill assessment and clean-up work. The most important of these are BTEX (benzene, toluene, ethylbenzene and xylenes) and PAHs (polycyclic aromatic hydrocarbons). Volatile organic compounds (VOCs) were the main target of UNEP's air quality investigations.
"Extensive remote sensing analyses complemented the fieldwork. Reviews of legislation, institutions, oil industry practices and available remediation technologies were also undertaken by international experts to complete the study. A selection of the study's key findings and recommendations are summarized below. Given the vast amount of data generated during the assessment, the following content should not be considered in isolation. UNEP's field observations and scientific investigations found that oil contamination in Ogoniland is widespread and severely impacting many components of the environment. Even though the oil industry is no longer active in Ogoniland, oil spills continue to occur with alarming regularity. The Ogoni people live with this pollution every day," it added.
Other parts of the Niger Delta
From Akwa Ibom to Bayelsa and from Edo to Ondo States, investigations showed that many oil producing areas experience at least one form of environmental challenge or another. These have culminated in the pollution of the air, sea and land which residents depend on for their livelihood.
 Suggestions
However, some observers, including Mr. Bala Zaka, a Port Harcourt-based oil industry consultant, said the observations in Ogoniland reflect the true situation in other parts of the region.
He called on the government and oil companies to work toward the cleanup of not only Ogoniland but also other producing areas.