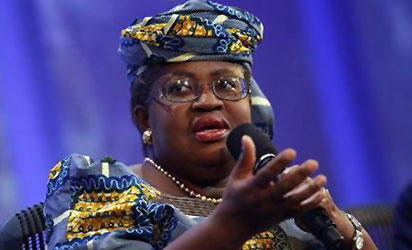 Dr. Okonjo Iweala
Finance Minister, Mrs Kemi Adeosun and her predecessor, Ngozi Okonjo-Iweala, have been summoned to appear before the House of Representatives over alleged abuse and breach of the Procurement Act, 2007.
The house's Committee on Public Procurement, which invited the ministers, directed that they should appear before it on Tuesday.
Others expected to appear before the committee are former Head of Service (HoS), Mr Steve Otunla and former Accountant-General to the Federation (AoGF), Mr Jonah Otunla.
The committee had on Thursday summoned Adeosun and some others over alleged payment of N17 billion to five firms believed to be ghost companies as consultancy fees.
The committee in an investigative hearing on Monday in Abuja said that summoning the top officials was to ensure proper investigation.
Chairman of the Committee, Rep. Oluwole Oke (Osun-PDP), who issued the order inviting the officials, read the Riot Act to all Ministers and Accounting Officers of Ministries, Departments and Agencies (MDAs).
He said "the shortest way to Kuje prison is through breach of procurement laws."
Worried at the slow pace of the investigative hearing due to the poor attitude of civil servants towards releasing of vital documents, the committee attended to only those who made available necessary documents.
The members decried the discrepancies between the submissions made by Federal Ministry of Finance and Central Bank of Nigeria (CBN).
They observed that out of the 12 pre-shipment Inspectors and two monitors, who benefited from the N17 billion, seven were appointed in line with due process while five were appointed through the back door.
Oke call for overhaul of the entire process.
He pointed out that a former governor of Bauchi State and a former member of the House of Representatives, who were part of those who promulgated the procurement law were sentenced to five years imprisonment for infractions.
He added that a former Chairman of Nigeria Ports Authority (NPA) was also sentenced to two years imprisonment for breaching the Procurement Act "before the Supreme Court intervened''.
The chairman advised the invited stakeholders to bring before the committee Presidential Approvals, Letters of Awards, Agreements signed with the contractors and performance records.