By PETER DURU
THIS is certainly not the best of time for Local Government pensioners in Benue State, as they plead with Governor Samuel Orton, to pay their 70 months pension arrears and other benefits to save them from untimely death.
Within one month, the helpless pensioners have protested twice to the government house to draw attention to their plight.
The pensioners on the platform of Coalition of Local Government Retirees, CLGR, comprising retired primary school teachers and local government staff in the 23 local government areas of the state, took to the streets of Makurdi, displaying several placards to express their grievances.
Some of the placards read "pay us, our children are being thrown out of schools", "we have served the state please pay us our due" and "our members are dying because we cannot pay hospital bills or buy drugs."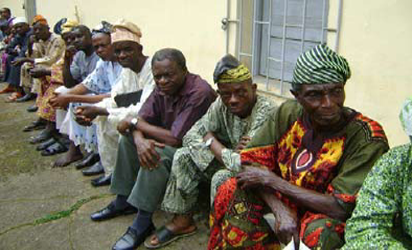 During the first protest, led by their spokesman , Michael Vambe, the pensioners ended up at the entrance of the Benue State Government House where they were received by the state Deputy Governor, Mr. Benson Abounu.
Lamenting their condition, Vambe explained that they were forced to embark on the protest owing to the failure of successive governments to address their plight.
He said, "We want to appreciate you for directing that we should be placed on a monthly pension which started in February 2016. Regrettably, since we were placed on pension in February 2016 alongside our counterparts who have been on pension in the local government so that both of us will be on the same payroll in subsequent payments that has not been adhered to by the bureaucracy. Since then, the first to third payments were made but the Ministry of Finance subsequently paid N100million to us contrary to the N200million you directed them to pay on a monthly basis and after four months nothing has been paid till date."
Vambe lamented that they had been subjected to untold hardship due to the actions of the officials of the Ministry of Finance.
He noted that majority of the pensioners who were drawing their benefits directly from the Bureau for Local Governments were being paid as at when due, "but same is not the case with some of us."
He regretted that previous administrations in the state compounded their plight by failing to do the needful which gave rise to the huge backlog. We are actually not blaming this administration for our plight because if other administrations had initiated this type of bold initiative we wouldn't have been in this pitiable situation we have found ourselves. Today we have backlog of arrears dating back to 2010 which have not been paid even after the retirees were captured. The present government initiated payments for us in 2016 but the Ministry of Finance is frustrating the directive of the Governor."
"While we await further government action on the backlog the previous government failed to pay us we also ask that the disparities in the payment of old and new retirees which is also a source of concern to us all should be addressed since the present administration has taken the bold initiative to resolve the lingering problem.
"We wish government to note that since we were placed on monthly pension, the order is that arrears is paid alongside because as at today our arrears stands between 70 and 24 months. Regrettably all ministries and parastatals have paid their retirees who retired same time with us, why are we made an exception, have we offended the gods of the land? We are suffering and have no strength to cater for ourselves and families, our children have been chased out of school, we cannot feed well and cannot afford our routine drugs which have made life miserable and unbearable for all of us leading to the death of many of our members."
They urged the government to take decisive step to address the situation with emphasis on the prompt release of the N200million the governor directed at the inception of the government.
"We also wish to note that the N200million the governor directed we should be placed on monthly could not go round because some of our members who were captured at retirement are currently not benefiting from it. We have some of these groups of persons in 2010, 2011, 2012, 2013, 2014 and all of 2015 and 2016. We urged the government to approve N70 million more so that these persons can also be placed on pension like us."
But, during the latest protest few days ago, the aggrieved pensioners decided to sleep at the gates of Benue State Government House in Makurdi,
Some of them displayed placards with inscriptions such as "retirement is not a crime, pay all retirees ", "our governor hear our prayers please", "our children have been chased out of school" and "we are sick due to poverty and age."
Speaking, Vambe said "we slept at the gate of the Government House since yesterday to press home our demands for the payment of our pension. The Finance Ministry stopped giving money to Local Government Pensions Board and this is causing us hardship. Though this problem predates the present administration because many of us are being owed between 70 to 24 months backlog of unpaid pension, we want this government to sustain its initiative of steady payment because some persons are trying to frustrate that effort. We are facing real hard times, not too long ago, one of us committed suicide out of frustration because he was not paid for several months and life was becoming unbearable for him."
Addressing the pensioners later, Governor Ortom, after listening to their complaints, observed that their welfare was of utmost importance to his government and promised to do everything possible to clear the arrears.
He directed his Special Adviser on Local Government and Chieftaincy Affairs, Mr. Titus Zam, to include their leader on the Local Government Joint Allocation Committee to have the matter resolved without further delay.