BY JIMITOTA ONOYUME
PORT HARCOURT – The feud between Chibuike Amaechi and Senator Magnus Abe over who controls the mainstream machinery of Rivers state chapter of the All Progress Congress, APC, deepened Friday as the Minister of Transportation , Mr Amaechi announced removal of his former Chief of Staff, Chief Tony Okocha and three others as leaders of the party's caucus in their various local government areas.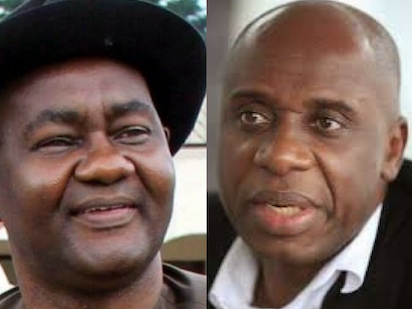 Others affected by the shake up announced by Amaechi yesterday at different meeting with stakeholders of the party in the state was his former Attorney General and Commissioner for Justice, Mr Worgu Boms, who lost his seat as leader of the party's caucus in his local government , Hon Chidi Wihioka, member representing Ikwerre/Emohua federal constituency who was replaced as leader of the party's caucus also his local government area. Hon Alwell Nyesoh was also removed as leader of the party's caucus in Etche local government area.
Amaechi as leader of the party in the state allegedly took the action because those removed were accused of working to install Senator Magnus Abe as governorship candidate of the party for the 2019 general elections.
Vsnguard gathered that at the meetings Amaechi vowed to ensure that Senator Abe did not get the party's gubernatorial ticket for the 2019 general poll, insisting that as leader of the party he would determine who flies the party's flag in the state.
Amaechi who is the immediate past governor of the state said he appointed Abe secretary of his government in his first term , adding that he also supported him to be Senator in his second term.
Amaechi reportedly told the gathering of party stakeholders that he felt betrayed by Senator Abe, vowing to ensure he never got the party's gubernatorial ticket.
Meantime, one of those removed as Leader of the party's caucus in his Obio Akpor government, Chief Tony Okocha affirmed his commitment to the gubernatorial bid of Senator Abe for 2019, insisting that he was convinced in the qualities of Abe to provide good governance in the state if he wins,
He said it was unfortunate that he was removed as leader of his party's caucus at a meeting he was not in attendance, stressing that the action showed the alleged desperation of one man to muscle up the party.
" They just removed me now for supporting Senator Magnus Abe, the removal is to confirm that APC belongs to one man. Nothing to worry about because he also appointed me. The one who appoints has powers to remove.
Later in the day he would remove Senator Wilson Ake. He has removed his former Attorney General and Commissioner of Justice, Worgu.
I support Abe because I believe he has the qualities, the folowing. He has what it takes to win elections, I was not given opportunity to defend myself. I am in Abuja when they removed me. ", he said.