The wife of the President, Mrs Aisha Buhari, has urged women trainees in skill acquisition programmes to use vocational skills acquired to generate income for their self-reliance.
Mrs Buhari gave this advise on Friday in Lagos during the graduation of 2, 200 women, who were trained in different skill acquisition programme.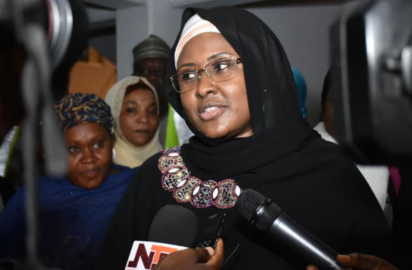 Newsmen) report that the training was done under the auspices of her pet project, 'Future Assured'.
The wife of the President, who was represented by the wife of the Lagos State Governor, Mrs Bolanle Ambode, also called on the women to use the skills and employ other women.
She called on the beneficiaries of the training to look beyond generating income to creating employment.
"The empowerment of women helps them to be more self confident and puts them in a position to assist their spouses in family upkeep, thereby making them more relevant in their respective homes.
"The skills acquired by these women include hair braiding, manicure, pedicure and weaving, tie and dye, soap and pomade making.
"Others are Catering, sewing, hat making, bead stringing and cap making.
In her remarks, the Senior Special Assistant to the President on MDGs, Mrs Adejoke Adefulire, commended Mrs Buhari for using her personal resources for the public good.
She said that an empowered woman has enough muscle to do more for her home by assisting in family upkeep.
She said that empowering women will also reduce cases of domestic violence.
Adefulire, therefore, called on the women to imbibe the culture of putting their hands to work, rather than expecting handouts.
Some of the beneficiaries who spoke at the event thanked Mrs Buhari for her gesture.
Kenny St. Brown, a popular artist said she joined the catering class and learnt local and international cuisine, such that today she can organise group feeding even at short notice.
She called on women to have a skill-based pastime even when they are well-to-do.
Another beneficiary, Mrs Florence Otu, who learnt fashion design, called on other influential Nigerians to toe the line of the Wife of the President by empowering women both with skills training and start up packs or fund.
Highlight of the occasion included the presentation of certificates to beneficiaries and exhibition of their finished products.