By Gbenga Olarinoye
Osogbo—Three policemen guarding commercial banks in Iwo, Osun State, were feared dead last night as daredevil robbers attacked three commercial banks in the town, while one of the robbers was also said to have been gunned down during the operations.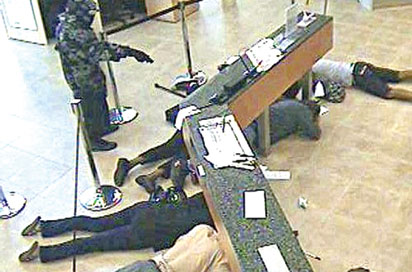 Though information about the robbery were sketchy last night, Vanguard, however, gathered that the operations by the heavily-armed men were similar to previous ones in the town.
It would be recalled that yesterday's robbery would be the third in the series of attacks on banks located directly opposite Bowen University, Iwo.
During last night's operation, which lasted for about an hour, residents, shop owners and passers-by, where the banks were located, scampered for safety as the gun-trotting robbers started shot sporadically into the air to scare people away from the scene.
Sources told Vanguard that the robbery gang made use of dynamite to open the bullet-proof doors, leading into the banking halls, where unspecified amount of cash were carted away.
According to a source, a young boy was unlucky as he was hit by bullets in the leg, while attempting to flee the scene of the incident.
The source said: "One of the robbers was killed by the policemen attached to the bank. But the robbers shot dead about three policemen."