By Amaka Abayomi
THE Lagos State Governor, Mr. Akinwunmi Ambode, has stated that the 13 per cent of Lagosians (representing three million people) that are still illiterate is unacceptable and pledged to increase the literacy level of the state from 87 per cent to 95 per cent.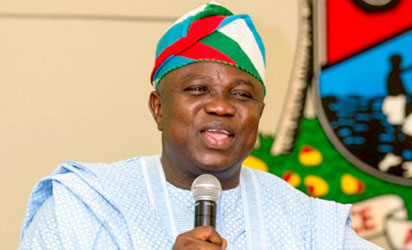 Ambode made the pledge while kicking-off this year's sensitisation and mobilization campaign organized by the state's Agency for Mass and Adult Literacy at the Palace of the Adegboruwa of Igbogbo Baiyeku Kingdom, Ikorodu, Oba Semiudeen Kasali, where he registered some of the new adult learners, including 75 years old Madam Ayinke Olugbile, a petty trader.
Represented by his Special Adviser on Education, Mr. Obafela Bank-Olemoh, the governor reassured people of the state that his administration would do everything humanly possible to meet the 95 per cent literacy rate target by 2019. He said "That is why we are  aggressively coming up with new ideas and committing huge resources to the project in order to surpass the deadline."
Explaining that modalities have been put in place to ensure that no one in the state has any excuse not to be able to read and write, Ambode said about 1,000 facilitators have been trained with 250 learning centres opened across the state to ensure more residents enroll for the programme irrespective of their locations and types of work.
He said "We have our study centres at every corner of the state such as in market places, mechanic villages, motor parks, churches, mosques, okada parks, palaces, NGOs offices and several other places that are easily accessible to learners. We also pay our instructors and facilitators their allowances regularly every month. To this end, we have been recording no fewer than 10,000 trainees graduating from the scheme annually and our target is to double the figure in the subsequent years."
He, however urged the traditional rulers of both Igbogbo and Ibese-Ikorodu kingdoms, Oba Semiudeen Kasali and Oba Richard Abayomi, who were present at the event, to mobilise their subjects for the programme, saying it would help them to contribute more to the development of the two communities and the state at large.
Also speaking, the Director of the agency in charge of the scheme, the Agency for Mass and Adult Literacy, Mrs. Oluwakemi Kalesanwo, urged the learners to be regular in class and participate in all activities required of them to graduate after one year. She said the learners were being taught Arithmetic, English and Yoruba language, general knowledge and civic education with the state government distributing text and instructional materials to them free of charge.