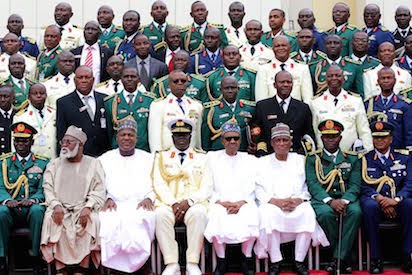 President Muhammadu Buhari, others at the graduating ceremony at the National Defence College NDC Course 24 in Abuja
-Tasks politicians, NGOs, stakeholders on short courses over security, nation building
By Joseph Erunke
ABUJA-FORMER Military Head of State, General Abdulsalami Abubakar, yesterday, charged the military authorities to seek upgrading of the National Defence College to a university status.
This was even as he tasked politicians, Non Governmental Organisations, NGOs, and stakeholders in the country to begin to undertake short courses in the college, saying it was only by so doing that can have better grasp of not only security matters but also nation building.
Abubakar said since all the arms of the nation's Armed Forces have established their various war colleges for the training of their personel, retaining the status of the National Defence College at the moment was unnecessary.
To this end, he said the college be upgraded to what he called "National Defence University.
The former Nigerian leader, who spoke as a guest lecturer at the 25th anniversary of the National Defence College, Abuja, insisted that time was ripe for the college to be elevated to degree awarding institution.
While noting that modern defence colleges were becoming more engaged in academic activities that leads to the award of higher degrees, he advised that the college can partner with other institutions of higher learning in the country for similar purpose.
According to him, for politicians, NGOs and stakeholders to have a better grasp of the nation building and security, they must begin to attend short courses at the college, which he noted, was established and equipped for such purposes.
He advised managers of the college to apply to the National Universities Commission, NUC, seeking elevation of the college to a status that would allow it to award higher degrees in future.
"The NDC should be thinking of becoming a national defence university with full accreditation by the National Universities Commission to award masters degrees and perhaps even doctorate degrees in the long term.
"I also believe since the services have setup their national war colleges, I believe this will be a good thing if this defence college is elevated to start giving a degree."
The former head of state, however lamented that after 25 years the College was still occupying a temporary facility due to non completion of its permanent site at Piwoyi, adding that it is therefore expedient that government should complete the site as matter of urgency, "he said.
He said funds and infrastructure should be allocated and provided for the take off of the College to become degree awarding institution where it would attract researchers all over the country to the college, stressing that alternative funding should be sourced by the college aside the regular budgetary allocations.
He stressed:"Alternative funding arrangements for the College outside the regular budgetary allocations should be considered. In this regard, the college could research into alternative sources of funding and make its recommendations to government for consideration."