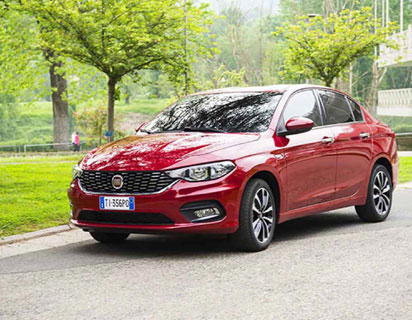 Fiat Tipo
By Theodore Opara
WESTAR Associates Limited, authorized general distributors of Mercedes-Benz, Chrysler, Jeep, Dodge and Ram in Nigeria has confirmed the arrival of the much-anticipated Italian brand – Fiat in Nigeria. The first model of the Fiat vehicle to arrive is the all new Tipo Sedan and plans are already in motion to officially launch the exciting new model.
Fiat is renowned for making high-end performance sports cars such as Ferrari and Maserati. In October, 2014, Fiat and Chrysler Group of automobiles formed a merger to become Fiat Chrysler Automobiles. This new alliance paved way for access to newer technologies and advanced engineering solutions. In 2016, Ferrari was signed off as a separate entity in order for FCA to focus more on manufacturing city cars.
Large interior space
The Italian heritage is seen in the Fiat Tipo especially with its unique attributes  such as versatility, large interior space and compact exterior dimensions. The name – Tipo is a celebrated designation that Fiat has used many times during it's over one century of history. The Tipo is one of the models to carry the coveted name of which nearly two million were produced from 1988 to 1995. It bagged the first "Car of the Year" award in 1989.
Stavros Diamantidis, General Manager, FCA Group, Weststar Associates Limited, expressed optimism that the Fiat models will do very well in Nigeria. He said, "we are thrilled about this development as Nigerians can now enjoy real value for their money. The Fiat – Tipo fits perfectly in its segment and will be officially presented before the month ends. The Tipo offers high appeal as it comes with a vast variety of standard options. Its Italian heritage promises comfort, quality and versatility. With the Fiat-Tipo, you do not need much to get a lot. Thus, it serves as a wonderful option for Nigerians even as we have already put in place, an excellent maintenance culture offered by our aftersales team."
The four-door sedan version of the Fiat -Tipo is one of the first models which will be exclusively available at Weststar Associates Limited, authorized general distributors of Mercedes-Benz, Jeep, Dodge, Ram, Fiat  and Fiat  professional in Nigeria.